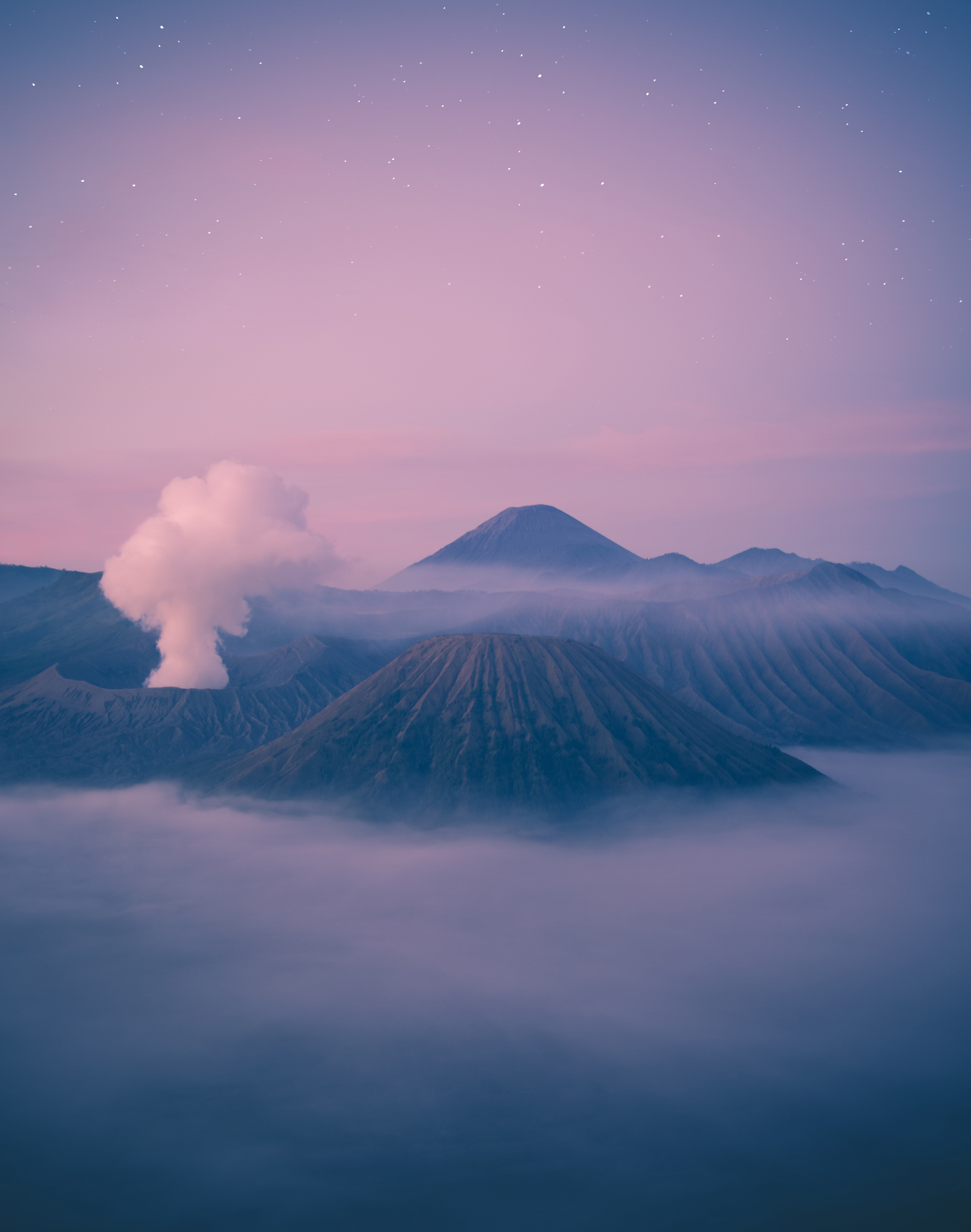 It's one thing knowing that you have to 'do' a digital transformation. Knowing how to manage one is quite another. There's this prevailing perception that technology equals disruption - a massive change in processes, business models and tech stack. But that's simply not true - with the growing prevalence of microservices architecture, a lot of simple but crucial interventions can be made in insurance to vastly improve the digital experience. Let's take you through a few key points that we believe will help you approach digital transformation the smart way.
In a nutshell:
Don't be afraid of disruption

Analyse digital touchpoints

Set specific digital transformation goals

An insurer's journey to better customer experience - Allianz
Don't be afraid of disruption
The 'disruption' fear is one of the reasons why many traditional insurance companies are either reluctant to start their digital journey, or choose to take a reactive approach by following in the footsteps of their competitors. At other carriers, executives believe a transformation will not be completed on their watch, because the magnitude of change required will leave no part of the organisation untouched and could take up to a decade. So why bet on an uncertain future and risk cannibalising existing profits or alienating distributors?
A growing number of executives, though, are facing up to digital reality. They know that digital technology can significantly improve business performance. They know that first-movers have an advantage. And they are aware that digital can give birth to entirely new business models that shake up sectors, leaving companies that fail to adapt struggling to survive.

This is where digital transformation managers step in and work on creating a thorough and stable digital transformation strategy. There's a saying that 'digital transformation is an attitude' that should be embraced by everyone in an organisation. And while digital transformation managers can influence company culture, it is mostly the senior management's role to work on that. What digital strategists can do, however, is analyse and prioritise which aspects of the business should be digitalised first.
Analyse digital touch points
To identify the priorities for a digital transformation strategy, look at the weakest spots in the user journey. Start off from the inside: What are internal processes that require lots of small, repetitive, simple tasks? Filling out paper forms, keeping customers records updated and handling claims manually are just a few examples.

Then, take a birds-eye view of how a customer interacts with the company online, i.e. what are theirr digital touchpoints? In an instant everything landscape, customers expect superior service from insurance, just like they expect it from any other industry. And if insurers can properly utilise digital touchpoints, there's a serious opportunity to impact the whole value chain.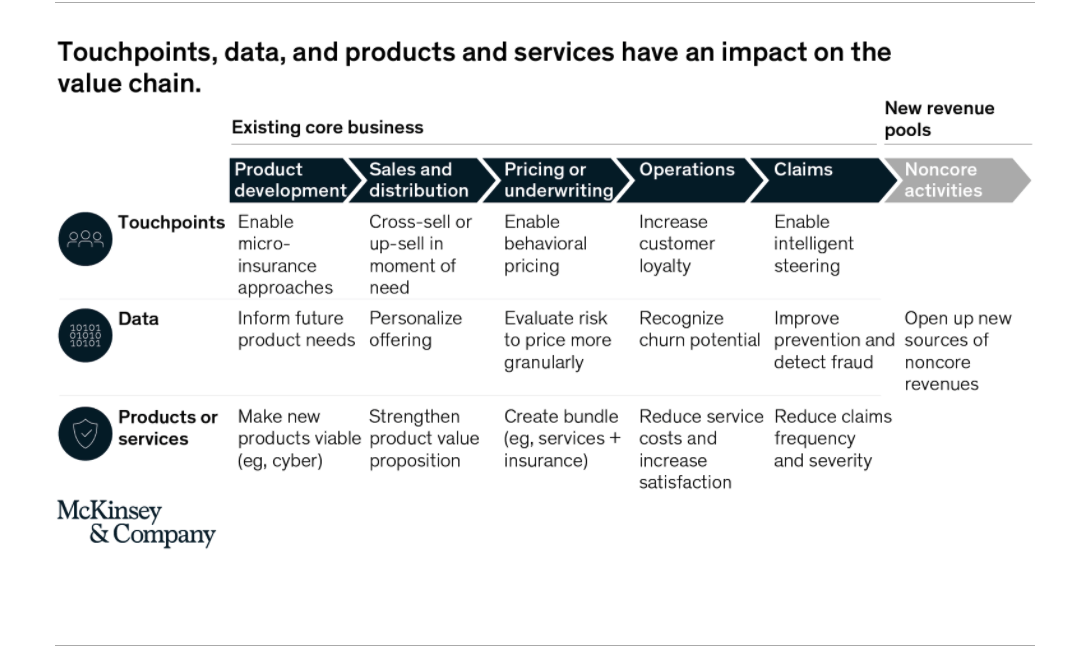 Source: McKinsey
Just look at Surround Insurance, a Boston-based insurtech that offers a customised insurance policy that can be bought entirely online in under 4 minutes. In Germany, at least six health insurance companies reimburse mySugr's digital diabetes solution, which includes an app connected to blood glucose monitors for easier management of patients' condition; this covers 15 million lives.

Source: beyondtype2.org
Set specific digital transformation goals
It is essential for insurers to set a digital transformation vision and specific goals for the core business. This may be a focus on lead generation or claims reduction (for example, through prevention or case management). Having a sharp vision is particularly important because it provides room for insurers and transformation leaders to stop and think:
Are there other options that are easier to carry out and can have more impact on the core business?
For example, lead generation through cross-selling from the insurer's own in-force might be easier to achieve than generating leads through digital channels.
Mapping out different use cases of customer journeys that need to be realised over the coming years might help in making the overall vision more concrete. The next step is deciding which of these customer journeys are low-hanging fruits that can bring the most impact. At this stage, design thinking methodologies can help to better understand the customer and determine which use cases would be worth offering.
An insurer's journey to better customer experience
Back in 2017, the global insurer Allianz implemented 70 customer journey improvement projects across 24 business units, within the first year of their new digital strategy.
With the help of customer-experience practices they began to analyse the different journeys people took when using their services. From health claims to automotive incidents, each journey was examined to find the pain and the positive in each. It revealed that most people are hybrid customers. They start online but prefer to purchase offline. This led to investment in a set of digital tools that complimented the offline experience, adding consistency for the customer, and economy for the employees serving them. Allianz managed to reduce costs and streamline operation by investing in self-serve capabilities that avoided calls to call centres.
Ready to shake things up?
Thinking about your digital transformation is the start of an epic journey. If you're ready to take the leap and you are looking for a trusted partner to help you bring your digital product to life, you are in the right place.

We are strong believers that technology can be of use for both insurance customers and providers and we are looking for partners who share our belief. If you dream about shaking up the insurance industry for the better, reach out to us. We have a proven track record working in the healthcare and wellness sector, including insurance, and we can support you in clarifying and developing your project idea.