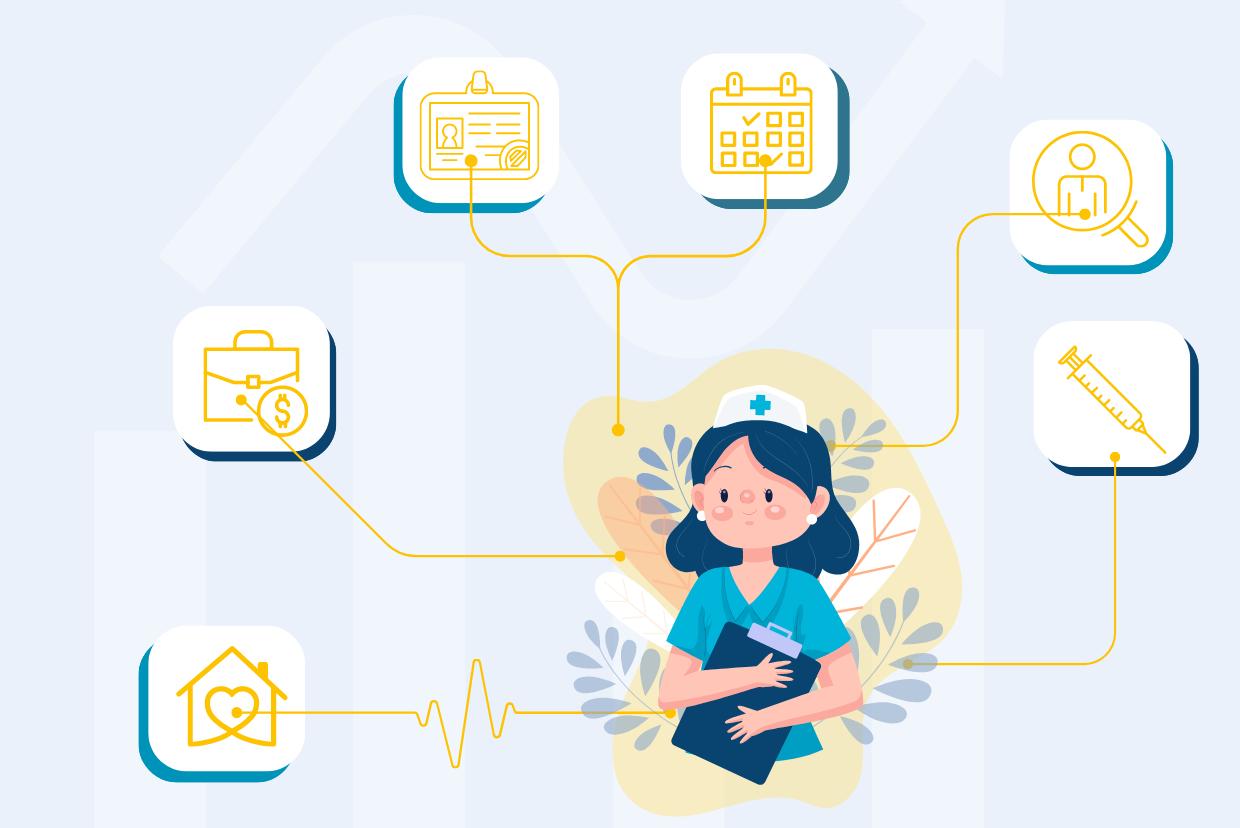 Nursing has ranked as the most ethical and honest profession for 20 years in a row, but sadly global nurse shortages are only getting worse. We've discussed some of the reasons for nurse shortages before, but now it's time to focus on some more positive nursing trends we've observed in 2022.
Most of these changes are largely affected by technology advances, where nurse staffing agencies are exploring ways to use technology to optimise processes and simplify the hiring process for both nurses and healthcare facilities. Let's explore some of them below.
Nurse Staffing Trends in 2022
Focus on workforce health & wellbeing
According to a research by McKinsey, one of the most important factors that could push nurses to leave their current position is the intensity of the workload and the emotional toll of their job, which was especially difficult during 2021's heavy COVID-19 waves. Although Covid rates are much lower now, nursing shortages will continue to be a problem in the future.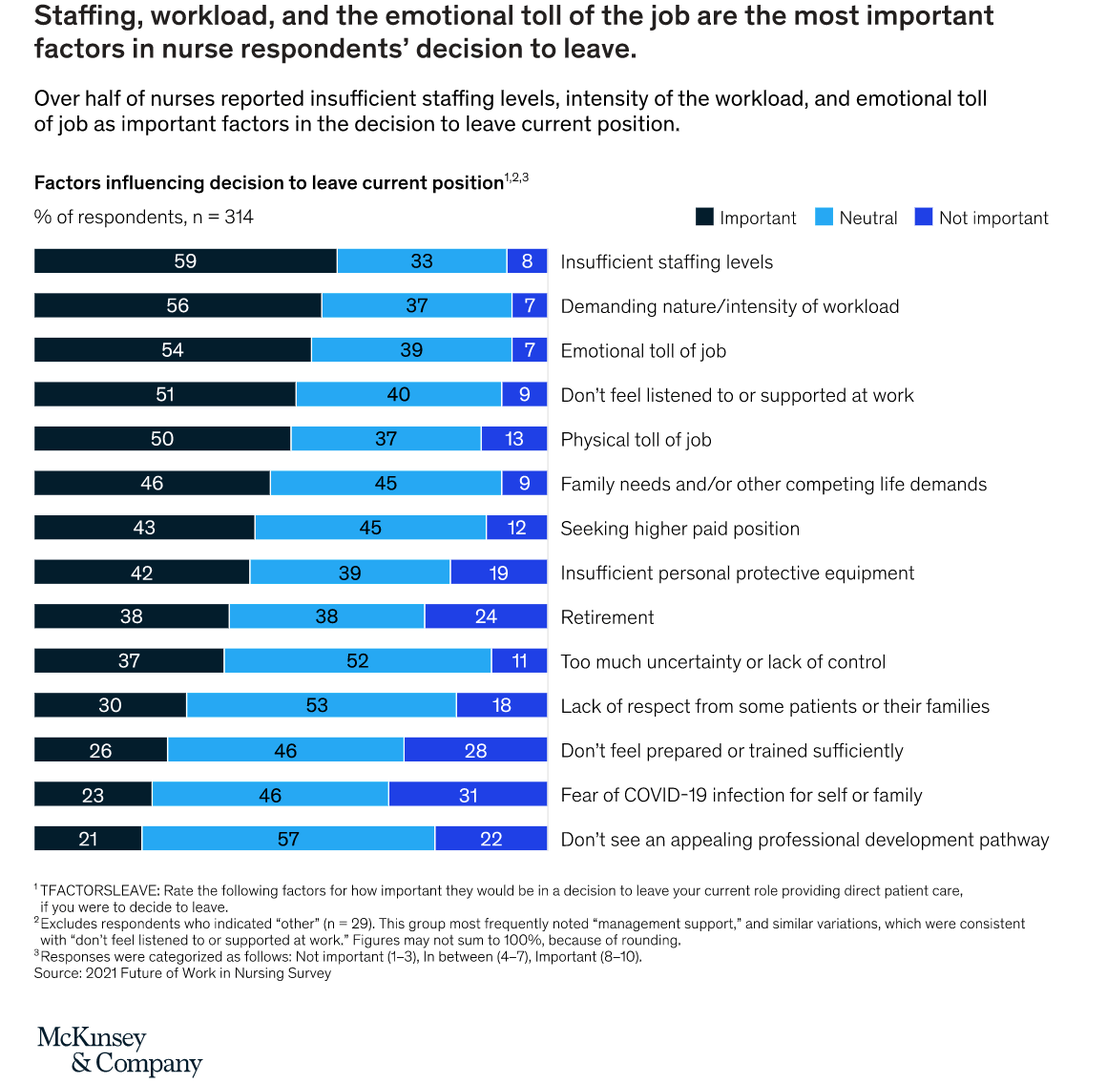 Factors that affect nurses' decision to leave their job. Image source: McKinsey
Nurses work long shifts and often go without breaks for hours on end. The truth is, many nurses love the quick pace of their work. But that pace, and the emotionally draining task of caring for ill people, doesn't always lend itself to thriving mental health.
Healthcare institutions quickly realised that to be able to sustain their nurse staff, they need to provide more support and resources for nurses' mental health and wellbeing. The Happy App is a platform that offers 24/7 mental health support tailored for nurses and the Therapy Aid Coalition offers free of charge, short-term therapy for US essential workers. Digital mental health tools are also very beneficial for nurse workers, who often have an erratic schedule which prevents them from in-person therapy sessions.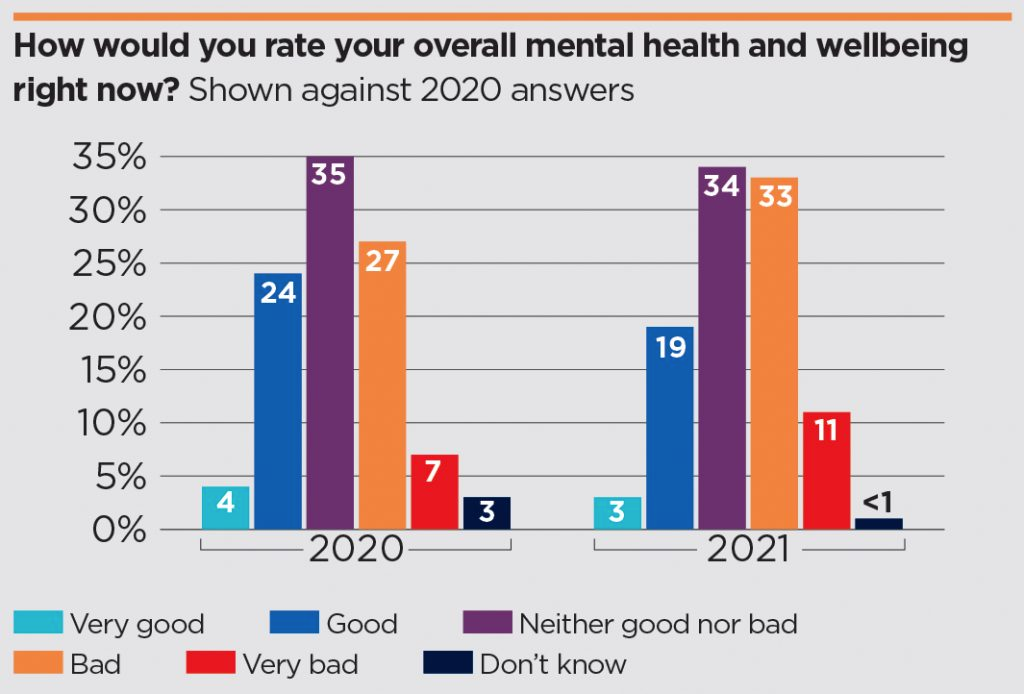 State of nurses' mental health - YoY comparison. Image credit: Nursing Times
Another common reason for nurses distress is uncertainty and lack of control when it comes to their job. Many travel nurses in the US travel between states - sometimes event between specialties - and will be paid differently from assignment to assignment. They might also receive different benefit packages - for housing, meal, and traveling. Agencies like Aya Healthcare and Triage Staffing offer flexible housing options, where nurses could find their own place and in some cases, even take their families with them.
New delivery models
Over 40% of nurses in the US have already delivered care virtually through video sessions or telephone calls and roughly 65% of frontline nurses are interested in providing virtual care in the future. Providing telehealth helps in making workflows more efficient and enables patients who do not need urgent care to stay home and still receive healthcare. And for those nurses struggling with the demands of in-person care, having the flexibility of hybrid care might be a key factor in their decision to stay in the profession.
Nurse staffing agencies like Blue Signal and Aledium HR have already been recruiting nurses for telehealth care for a while, and as demand for talent exceeds availability, we expect to see more and more staffing agencies including this delivery model as part of their offerings.
Nurse flexibility and hiring optimisation
Many hospitals choose to outsource the nurse recruiting efforts, in order to streamline the staffing process. Neverthelesss, because of compliance and regulatory issues, the nurse recruitment process is a tedious, slow and complex procedure which many nurses face. In the UK, many health practitioners have voiced their concerns over the NHS Recruitment process, and a similar trend can be seen in the USA, where nurse licensing varies across states, complicating the process even further. Many nurse staffing agencies are embracing technology to simplify the conventional nurse recruitment process into a faster, more flexible and reliable method.
We've been working with Altrix side by side for the last 4 years, from launching an MVP to expanding the Altrix app into one of the most successful technology-led nurse staffing agency in the UK. Altrix gives registered nurses the ability to book shifts from the Altrix app, without waiting for confirmation or approval and saving the NHS up to 85% and over on agency fees for short notice shifts. Altrix achieved that level of speed by fully integrating the compliance process right from the start - when a nurse signs up to take shifts with Altrix.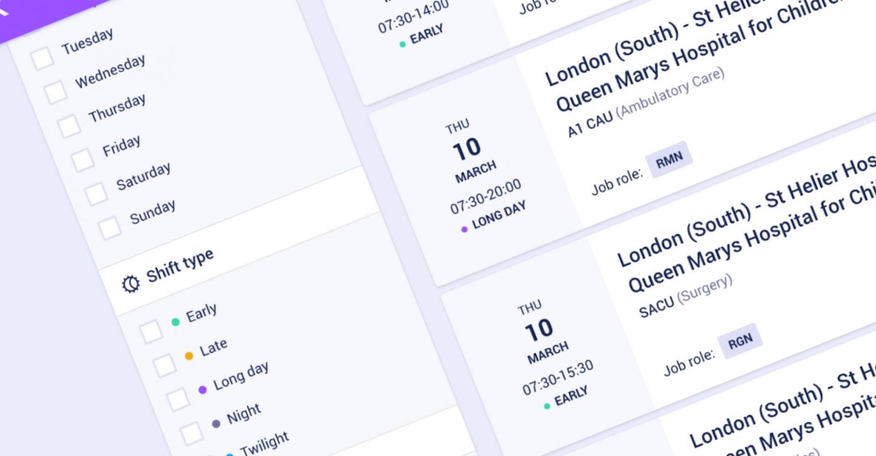 Nurse staffing agencies like NurseDash and Fleetnurse are using a similar approach to connect healthcare facilities and clinicians looking for open shifts. Among the key benefits of the those platforms is the speed and convenience for nurses to book shifts on the go and the transparency they provide on bill rates.
More opportunities to learn and grow their skills.
Approximately one-third of frontline nurses said they are not confident that they have the necessary skills for future success in their evolving role. Many nurses look to their employees for educational support and additional employer-sponsored and on-demand trainings. Nurse staffing companies that are trying to bring extra value to both employers and nurse practitioners offer educational services as part of a benefit package. American Mobile offers free continuing education course to nurses who wish to grow their career, while other staffing agencies like Aya Healthcare develop their own training programs.
Aureus Medical Group is one example of a company that stands out for its approach to student outreach. The agency pairs students and graduates with employment counselors and mentors, who could help them cope with the stress and anxiety when entering the nursing career.
Ready to shake things up?
At Despark, we know healthcare can improve care efficiency and business revenue by using technology the smart way. That's why we've helped create digital platforms like Altrix and Tamedocs.
If you've identified a pressing problem in the healthcare industry and you have an idea for a tech solution, reach out to us. We have a proven track record working in the healthcare and wellness sector, and we can support you in clarifying and developing your proposition.