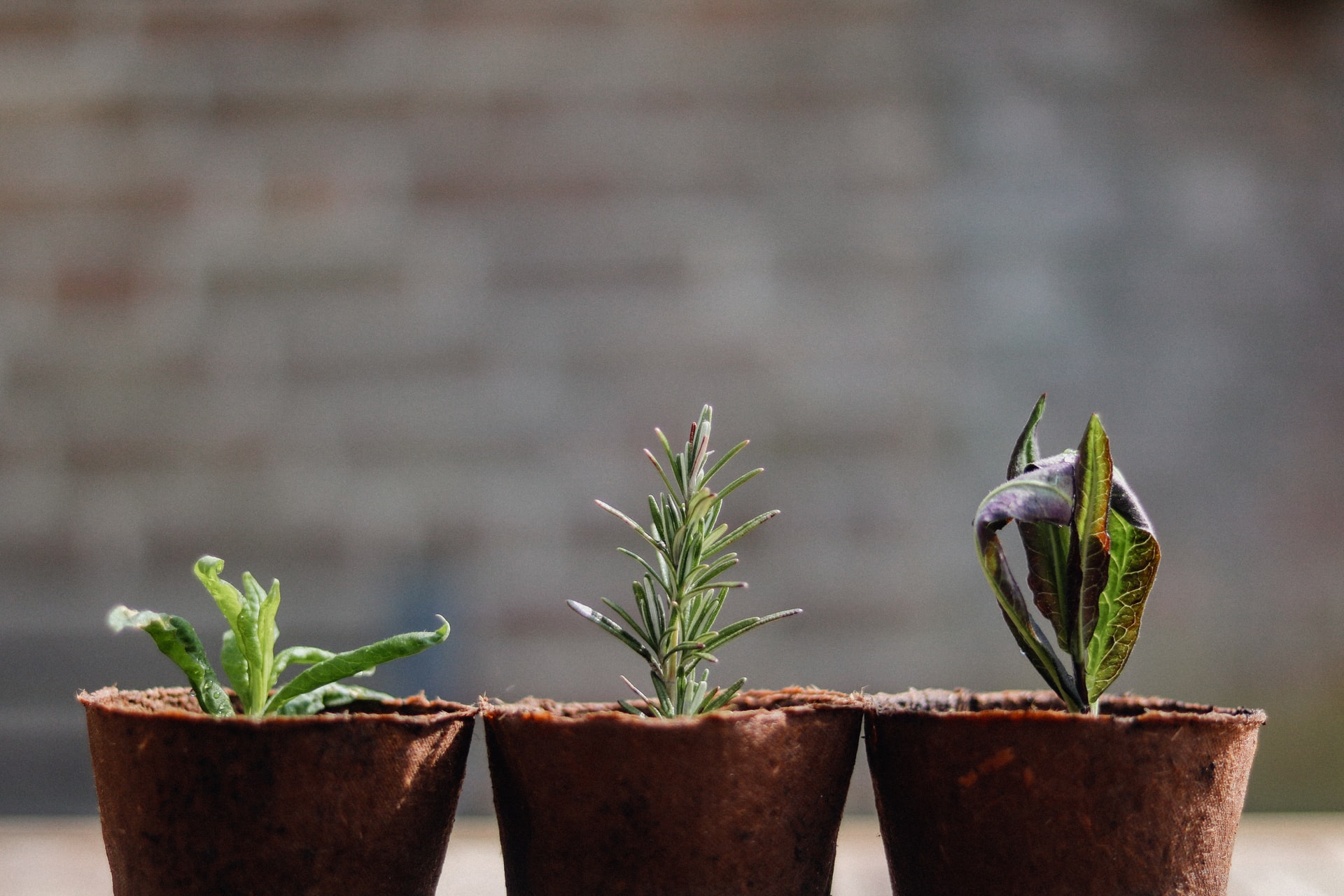 It's an interesting time to be a healthcare startup. The past year amounted to a colossal stress test on our physical and mental health, and the results were clear: the need for 21st-century solutions goes far beyond virology, immunology, and epidemiology. While the global economy was almost at a standstill in 2020, medical startups have reinvigorated the discussion around what modern-day health solutions should look like.
We have handpicked a list of some of the most prominent Healthtech companies that are making the best use of technology to approach healthcare in previously unimaginable ways. Here are a few to keep an eye on:
Full-scale Digital Health Management
For people with significant medical conditions, it's a struggle to navigate between taking medications, making sense of symptoms and going for regular checkups, especially if these activities are spread out in time and space. Wellframe is one of the few platforms that allow patients control over their full healthcare journey, from the palm of their hands. Their digital health management platform covers features including remote support from clinical specialists, appointment scheduling and medication reminders and daily checklists. Wellframe stands apart from its rivals because of the way it handles technology - instead of putting it at the forefront of the services, Wellframe focuses on reimagining healthcare relationships between patients and caregivers, with technology being only one part of the equation.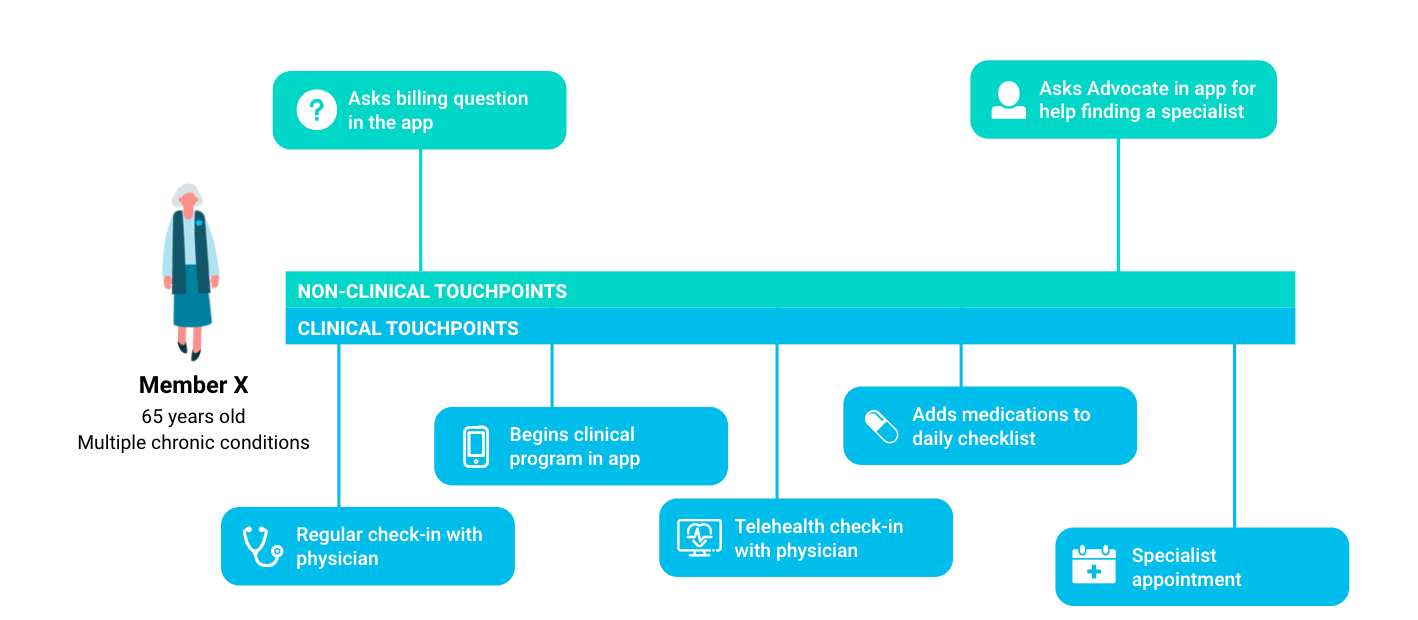 Source: Wellframe
Wellframe has scientific proof of its effectiveness, too. In a peer-review article published in the Journal of the American Heart Association, statistics showed that patients who used Wellframe's app were almost twice as likely to complete a cardiac rehabilitation program, compared to those who did not.
The Boston-based company was founded in 2011, with the goal of delivering better healthcare relationships through the use of technology and it stayed true to its promise. Since its foundation, it has raised over $45 million over 6 rounds of funding.
Accelerating rare disease treatments
British digital healthcare startup Healx aims to expedite drug discovery for rare diseases through AI-powered and patient-inspired technology.There are over 7,000 known rare diseases that affect millions of people around the globe, but only 5% of those conditions have approved treatment. By combining frontier AI technology with deep drug discovery and development expertise, Healx's accelerator program helps in discovering new treatments and moving them to the clinic in under two years.
Healx was founded in Cambridge, UK in 2014 by Dr Tim Guilliams, a Biochemical Engineer and tech entrepreneur, and Dr David Brown, the co-inventor of Viagra and Replax, a treatment for migraine. Tim is also the Co-Founder and Trustee of the Cambridge Rare Disease Network (CRDN). Dr David Brown, on the other hand, has over 40 years of experience in the pharmaceutical industry in companies like Zeneca, Pfizer, GlaxoWellcome and Hoffman La-Roche.
In 2019, Healx raised $56 million in Series B funding and in 2020, the company was awarded the title of Best AI Product in Health and Outstanding Achievement in Social Good Use of AI in 2020 by CogX.
A human-like health insurance company
A New York-based venture, Oscar Health is a health insurance company built around a full stack technology platform that offers smart insurance policies. Oscar offers unlimited teleconsultations and medical services, such as medication deliveries through the Oscar Health App. While the company's plans are more expensive when compared to competitor policies, Oscar excels at its customer service and its member benefits are recognised as some of the best in the health insurance industry.
It's no surprise that Oscar has been called the "Hipster Health Insurer", since the majority of its members are 26-35. Oscar Health's marketing strategy is revolutionising the healthcare narrative with sarcastic, dry humour subway ads and a playful tone. The company also transformed stale insurance habits by using technology's best design principles - instead of bizarre codes and numbers, users see clearly what services they received and how much they've paid for it. Through the app, users can also handle appointments, pay bills and check histories.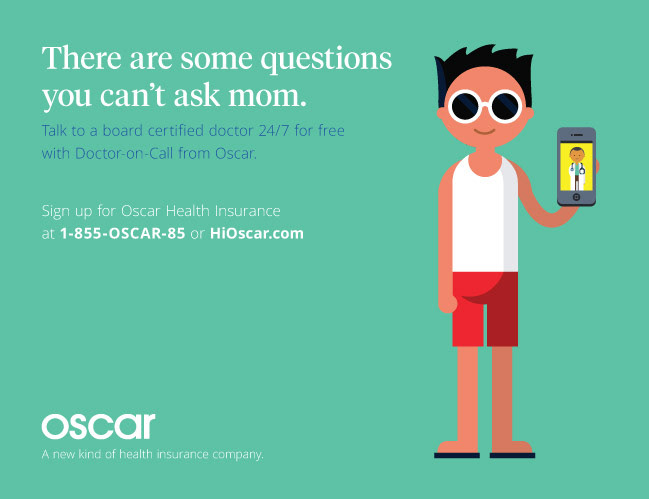 Source: Gregorynance.com
Oscar Health went through multiple funding rounds, with the series A round amounting to $30 million. The next funding rounds only grew in size, and in 2021m Oscar Health raised an additional $1.2 billion after an IPO. Currently, there are over 560,000 Oscar members in the U.S, across 19 states, and the company doesn't intend to stop there.
Kushner's interest in health care as a business emerged in 2012, after he hurt his ankle. While he was in the hospital, he was frustrated that he was not being able to access any information about his own case. No one had access to his medical records and he couldn't get a clear explanation of what happened to his ankle. By that time, he was already a successful venture capitalist at Thrive Capital, and he was struck at the antiquated medical sphere.
Enabling effective communication between care teams
There's a lot of talking about telemedicine and virtual healthcare, but not as much about the communication between care teams. Pando is a teamwork and collaboration tool, specifically built for health and social care professionals. Features like secure messaging, image sharing, patient lists and open forums enable clinical professionals to communicate more securely and effectively to deliver better care.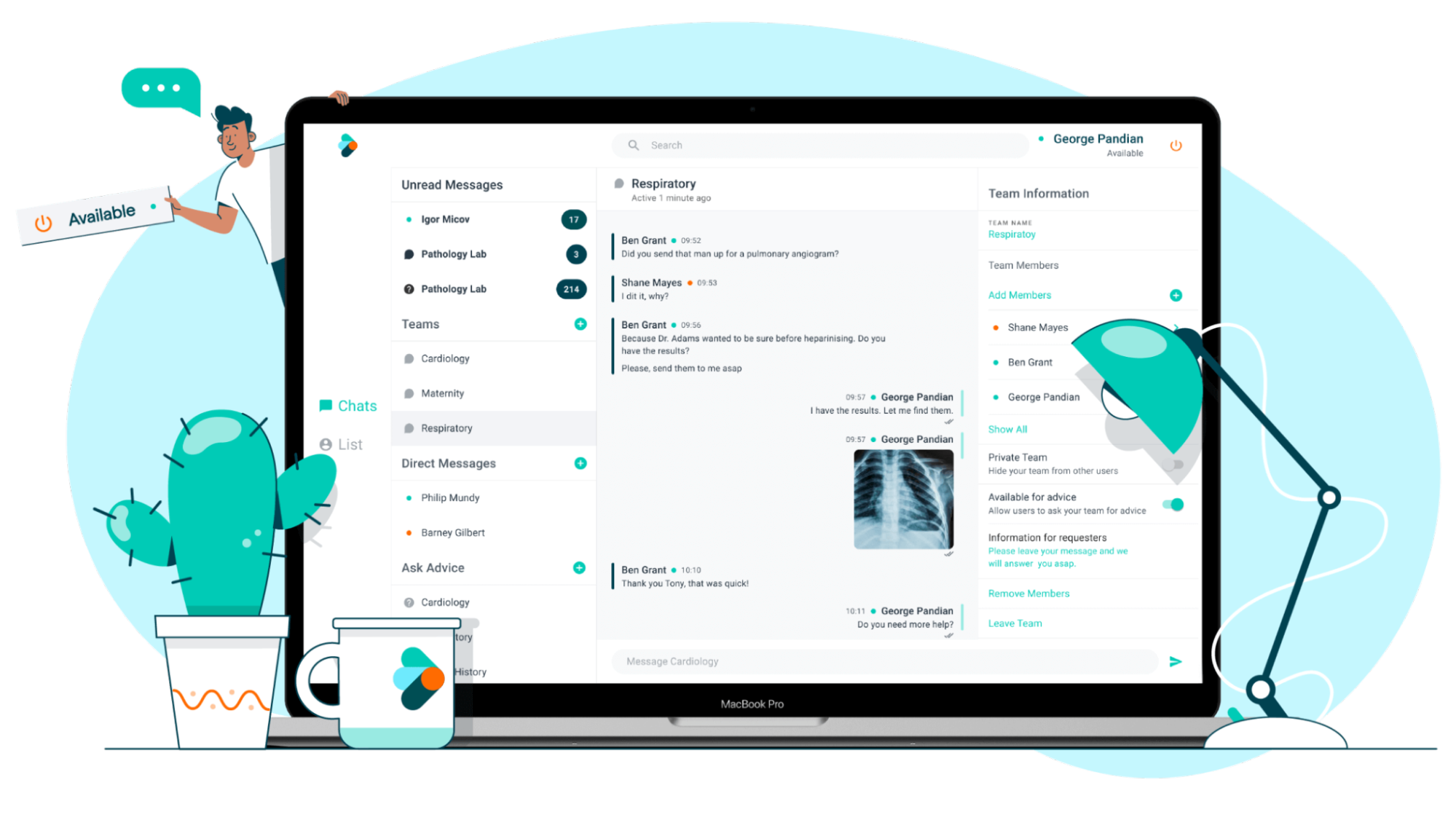 Source: Hellopando.com
Back in 2018, a team of NHS doctors - Barney Gilbert and Lydia Yarlott, together with health technologist Philip Mundy - were frustrated about the communication tools available for clinicians: pagers, landlines and unsecured messaging platforms. Then came Pando (previously called Forward), named after the pando tree, the largest living organism in the world. According to its founders, Pando Health resembles this "trembling giant" because it looks like many individual trees, but just underground lies a single connected system.
The clinical messaging app Pando Health has been officially approved by NHS Digital and is an approved supplier to the UK Government's Digital Marketplace, known as GCloud 12. The app is free for NHS staff and since the outbreak of the pandemic, the app has seen a 700% increase in engagement from NHS teams.
Making ultrasound imaging more accessible
Ultrasound machines are used by physicians to study a range of organs and conditions, from developing fetuses to muscles and tendons or blood vessels. They are the preferred option for both doctors and patients, as unlike an X-ray or CT scan, the ultrasound scan does not use harmful ionizing radiation. Exo aims to commercialise its handheld ultrasound device by using AI technology to generate high image quality at an affordable cost. Ultrasound machines can cost anywhere from $40,000 to $250,000 for low-end technology and into the millions for high-end machines. Meanwhile, Exo's device will be around the cost of a laptop. The device also comes with Exo Works - the workflow platform that streamlines exam review, documentation and billing processes.
Source: exo.inc
Using a combination of artificial intelligence, medical imaging and silicon technology, the device enables users to use it in a number of real-world medical environments like evaluating cardiology patients or scanning lungs of a COVID-19 patient. It can also be used by patients at home to provide real-time insight following a surgical procedure or to monitor a certain condition.
Recently, Exo received $220 million in Series C financing, giving the company over $320 million in total investments since it was founded in 2015 by Sandeep Akkaraju, Janusz Bryzek and Yusuf Haque.
Wrapping up
Here are some inspirational healthtech companies who are rewriting history, one patient at a time. Over the past 14+ years, we've worked with ambitious companies and together, we made change happen in the healthcare and wellness industry with projects like Altrix, Tamedocs, Kooth and many more.
So if you have an idea waiting to be brought to life, get in touch with us. We are here to help you shake up the healthcare industry. We'll take time to understand you, asking the hard or boring questions to help you ruthlessly prioritise your product's features. We want you to succeed, so you can build platforms that change lives for the better, right from launch.