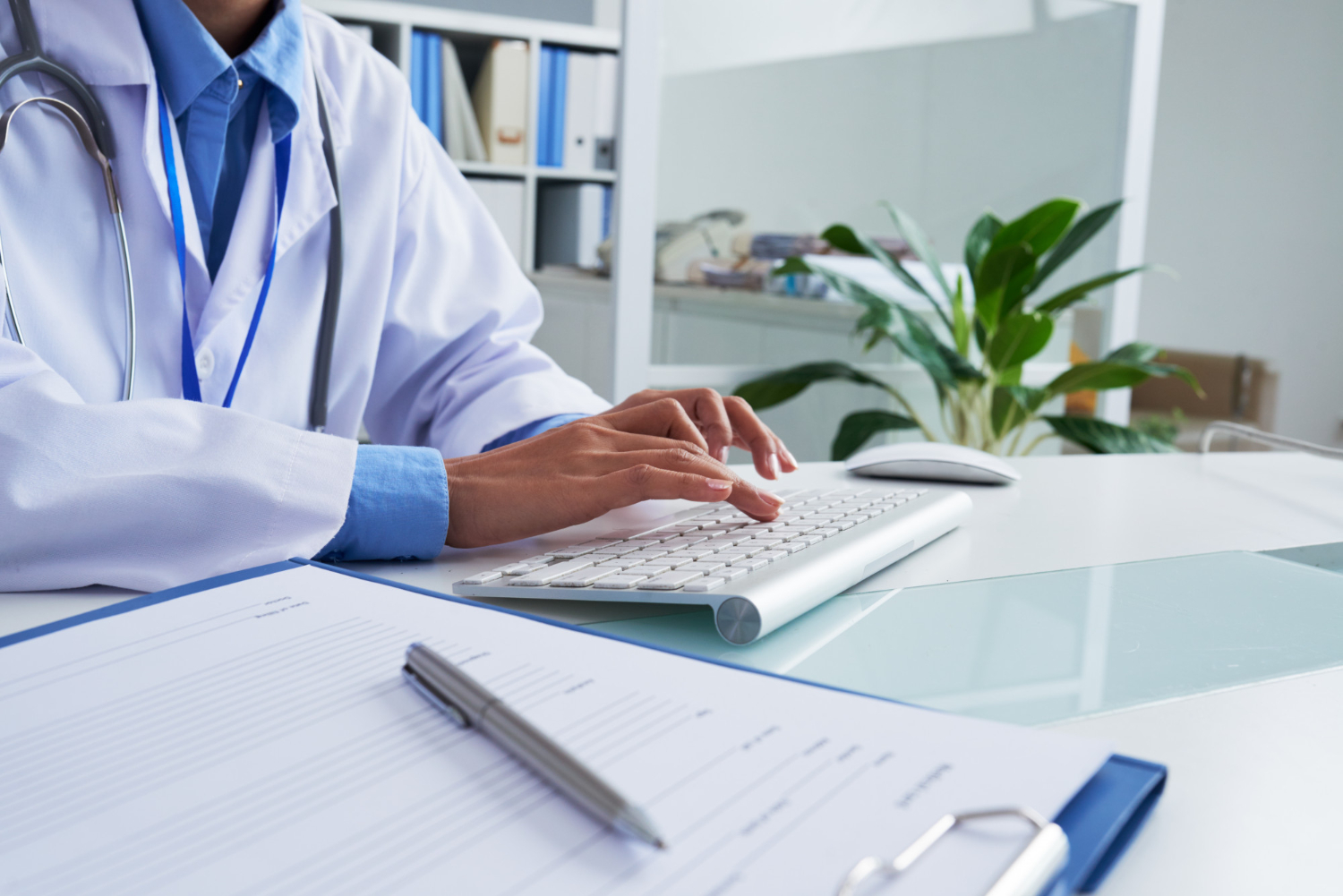 2020 showed us that digitally connected health cannot be just a vague idea for the future, but rather a next step for the industry. Unfortunately, the healthcare and pharmaceutical industries have lagged behind when it comes to implementing digital strategies. In fact, in a recent survey, only seven percent of healthcare and pharmaceutical companies said they had gone digital, compared with 15 percent of companies in other industries.
So what does the future hold for the digital healthcare industry? Let's take a look at some of the latest tech trends in the healthcare sector:
Trend #1: People want more control on their own care journey
Trend #2: The future is hybrid care
Trend #3: People perceive wellbeing on a much wider spectrum
Trend #4: Digital mental healthcare is on the rise
Trend #5: Big data in healthcare is a game-changer
Trend #6: People demand more privacy and security in digital health
Trend #1: People want more control on their own care journey
The days of blindly listening to the advice of healthcare professionals is gone - the modern-day patient has a wealth of information at the tip of their fingers, from checking symptoms on self-diagnosing apps to scheduling consultations through a government platform like the NHS App, and even browsing the web for the latest advances in the industry. Younger generations are becoming frustrated with the inconvenient appointment times available, or the location of health centes, making them prone to choose more flexible solutions like on-demand care. With the growing availability of digital healthcare tools, it's no wonder that 74% of millennials say that they'd rather see a doctor via telemedicine than a traditional GP. But more than just convenience, today's healthcare consumers are looking for control when it comes to their health. They expect more transparency over the prescribed medication and more responsiveness to follow-up questions. Additionally, over50% of the respondents in the same Accenture survey confirmed that they use a wearable or a mobile device to keep track of their health. And as Gen-Zs and Millennials are dissatisfied with the status quo; they are paving the way for modern healthcare.
In Europe and the US, governments and private organisations are heeding the trend by opening new programs to support digital healthcare initiatives. According to Mercom Capital Group, total digital health funding in 2020 has reached $21.6 billion globally - that's over 100% growth, compared to 2019.
Trend #2: The future is hybrid care
Last year it quickly became apparent that what can be done remotely, should be done remotely. Of course, there will always be diagnoses and medical conditions that simply can't be treated virtually, but combining virtual and physical care can bring the much-needed flexibility patients are looking for.
Hybrid healthcare relies heavily on technology for video conferencing, patient monitoring, appointment scheduling, and follow-up. But individual circumstances determine whether a patient should be managed remotely, face-to-face, or both. Through hybrid care models, patients can receive adequate care that combines the best of both worlds and answers to consumers' needs for digital flexibility. Hybrid healthcare models could be particularly useful for patients with chronic diseases that need constant monitoring of health indicators like heart rate, blood oxygen, glucose, etc. Apps that collect health data in real time can send information to the doctors, alerting them in cases of abnormalities, minimising the risk of late intervention..
Germany is one of the first countries to introduce a new Digital Healthcare Act enabling government-approved digital solutions to be reimbursed by the state insurance. The law is not a result of COVID-19, but, with the pandemic in the background, it is easy to speculate that more digital apps will appear wanting to take their chance on the German market.
Trend 3: People perceive wellbeing on a much wider spectrum
Taking care of one's wellbeing is nothing new, but only recently consumers started seeing wellness through a much wider lens, spanning outside fitness and nutrition to overall physical and mental health and appearance. Better sleep now goes beyond traditional sleep medication to apps with breathing exercises and pre-recorded sounds, as well as sophisticated sleep trackers. Mindfulness apps like Headspace, Calm and Travaasa have made meditation more mainstream and widely accessible, as reports of mental distress continue to rise.
Consumers in various markets have reported they care more about their wellbeing, compared to 2-3 years ago, although most of them don't necessarily believe their mental health has got better.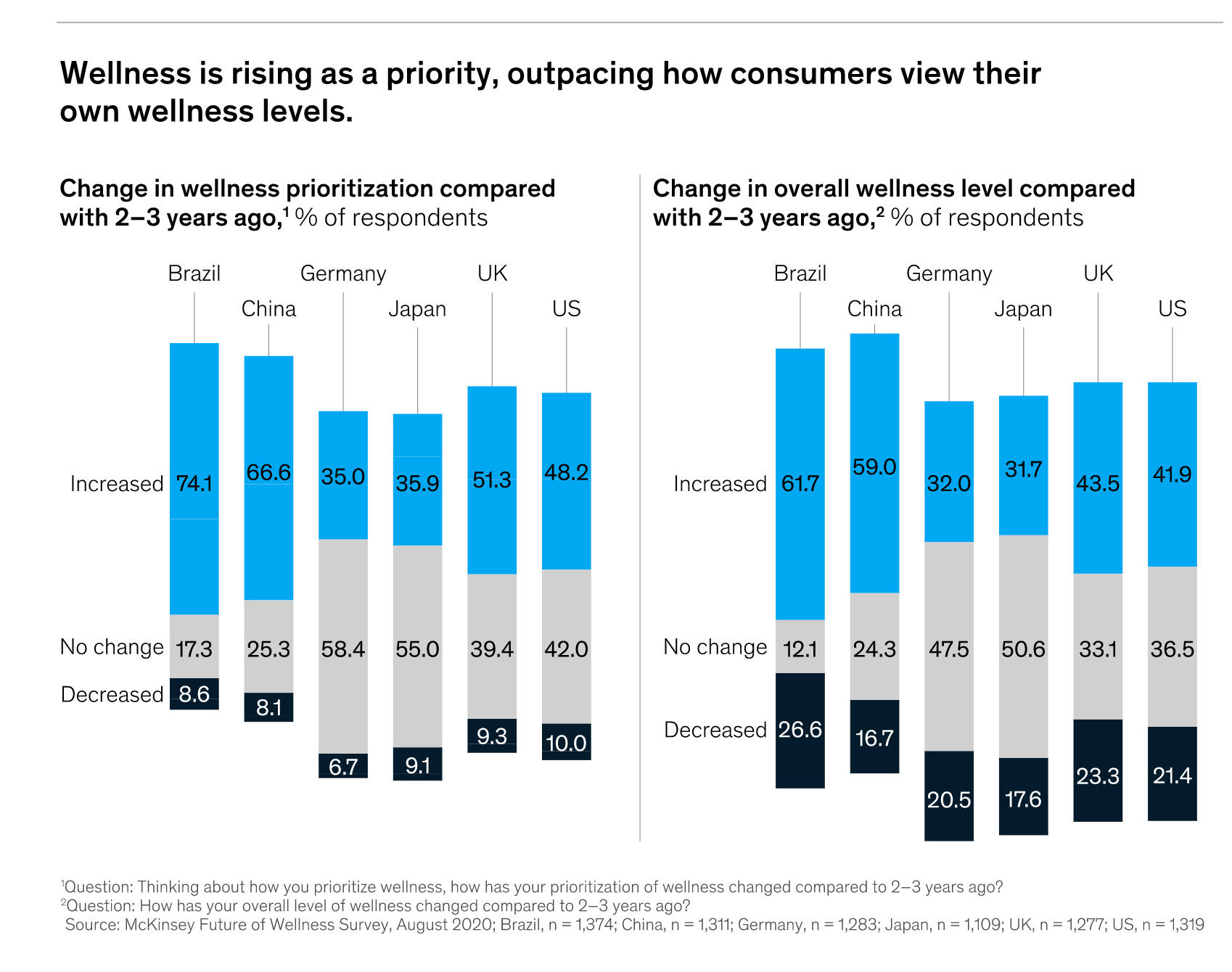 Source: ​​https://www.mckinsey.com/industries/consumer-packaged-goods/our-insights/feeling-good-the-future-of-the-1-5-trillion-wellness-market
Consumers are more conscious about how their lifestyle and wellbeing impact their health, and they actively research ways to improve that. As McKinsey estimates, the global wellness market, currently valued at more than $1.5 trillion, is expected to grow by 5-10 percent year on year.
Trend #4: Digital mental healthcare is on the rise
During 2020, the mental health of many people hit a new low. A recent analysis by McKinsey reported that COVID-19 could result in a potential 50% increase in mental health conditions. But even prior to the pandemic, there was a mental health crisis happening all over the world. The difficult times called for a rapid development of all kinds of mental health and behavioural therapy apps. Ranging from tele-psychotherapy, through asynchronous chats, up to self-help programs, apps like Formscore, Talkspace or Happify are here to guide people through uncertainty (anxiety, insomnia, mood swings).
Employers also became much more cautious about the impact of mental health on employees' performance and wellbeing, and started to include digital help as part of the employee benefits package. Similarly, 85% of employees said mental health benefits were important when evaluating a new job, as reported in a survey by Ginger, a company providing an on-demand mental health platform to employers. This major shift is here to stay, as higher management offices are looking for ways to improve their workers' resilience and shape conscious company cultures, followed by people's changing values.
Trend #5: Big data in healthcare is a game-changer
There's a common saying that data is the new oil. But data is becoming more like sand; with more healthcare apps, wearables, and other data sources, data is everywhere. Its real power lies in analytics: combining bits of information and making sense of these data streams to offer truly integrated experiences for patients.
Small and big tech companies are developing analytics and AI tools, specifically designed for the healthcare industry. In December 2020, Amazon Web Services launched Amazon HealthLake, a tool that allows healthcare providers to make more precise predictions about the health of their patients. Tools like HealthLake are essential for the growing importance of patient demographics - a term used to describe the core of the data for any medical institution. Patient demographics usually include basic information such as date of birth, gender, postal code, as well as more complex data like blood type, allergies and major diagnoses.
Having the necessary tools and skillset to analyse big data could help healthcare providers better understand patients' needs and provide more personalised care and effective treatment for different subgroups.
Trend #6: People demand more privacy and security in digital health
As more data is collected, patients' concerns about the privacy and security of their personal information is also growing. When consumers lack trust in how their data is being used, they are less likely to use digital healthcare services. That is why it is essential that all digital healthcare tools are built with privacy measures in place.
Some countries, such as the USA and Canada, have taken the extra step to ensure patients' data is secured. Protected health information, known commonly as PHI, is an industry term used to describe patient data that is regulated under law. The two most common health information regulations are HIPAA in the United States and PIPEDA in Canada.
But more than being compliant with state regulations, healthcare providers should strive to be more transparent about their privacy policies, in order to gain the trust of their patients and stimulate digital healthcare adoption.
Wrap up
As we see from these six trends, the healthcare industry is changing rapidly. Navigating your way through the digital healthcare space is not an easy task, which is why it's essential to choose the right partner for the journey.
If you need help with the digital aspect of your healthcare offering, reach out to us. We have a proven track record working in the healthcare and wellness sector, and we can support you in clarifying and developing your project idea. We're here to give people with great ideas a helping hand so that, together, we can change our world for the better.