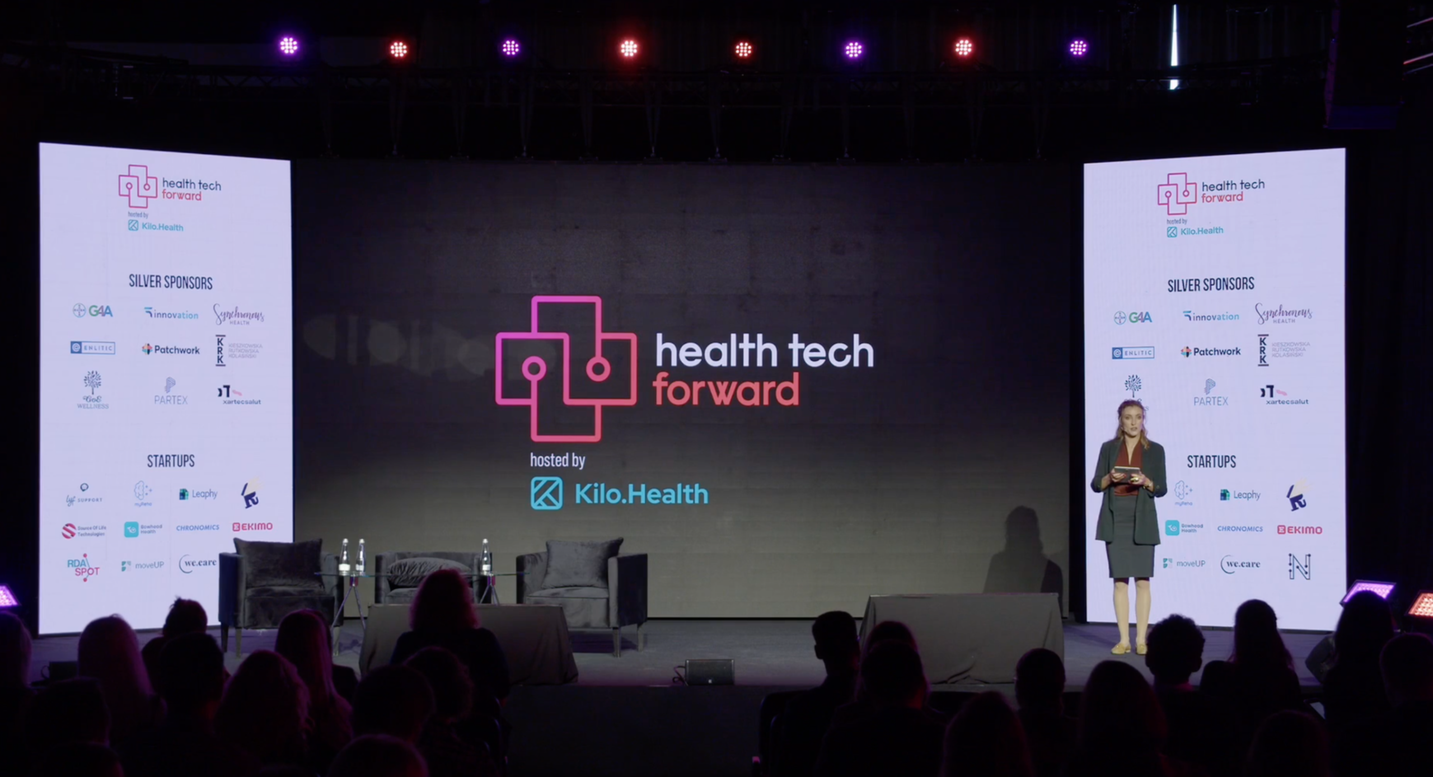 What are the newest trends and innovations pushing the boundaries of healthcare? And what's the future of mass-used digital health going to look like?
These were some of the topics of discussed on the Health tech challengers event, organized by Futurae Media , where our Product Owner Yoana Dolutarova participated. The event featured bright minds from some of the most innovative companies fostering the digital health revolution in 8 categories - Mental Health, Gut Health, Metabolic, Cardiovascular, MSK, Neurology, Workplace Wellness and Clinical Workflow.
If you didn't make it to the event but are curious what were the key insights, don't you worry - Yoana made sure you can read them through.
Digital health trends were accelerated during the pandemic
As we've been blatantly reminded by the pandemic - many communities registered partial or total disruption of treatments for cancer and other life-threatening illnesses. The pandemic thus helped accelerate the pre-existing trend of the expansion of virtual care, which overcomes many of the barriers of traditional healthcare by providing efficient, affordable and accessible care for various aspects of health - from diagnostics and prevention to drug delivery systems.
Innovations pushing the boundaries of healthcare
Futuristic inventions such as digital tattoos for heart pulse and rhythm monitoring and digital twins by health innovators, simulating the possible outcomes of a treatment, are emerging and already demonstrate fascinating results for the early detection and even prediction of serious health conditions.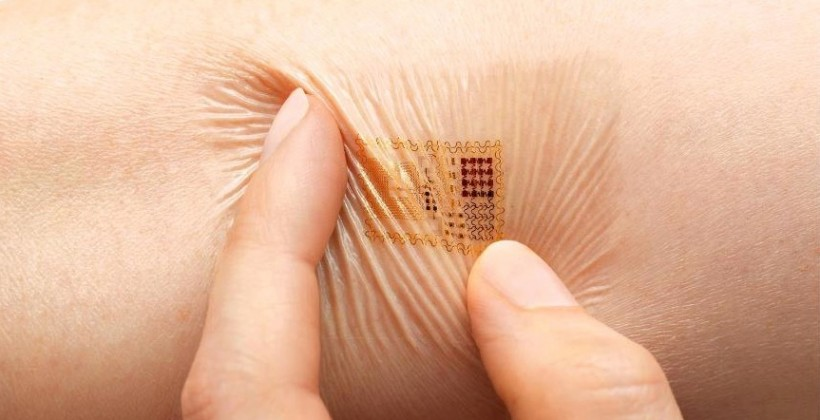 A digital tattoo. Photo credit: Vulcan post
What is more, technologies powered by AI and machine learning are in some cases superior to human doctors in terms of detection and predictive analysis abilities as they are objective and rely on thousands of data points (a doctor needs years of experience to get to that level and even then their judgement may vary depending on current mood, whether they have had good night's sleep, what they had for lunch, etc.).
A data-driven approach to health
A common feature of all digital health innovations is their data-driven approach.
In the realm of mental health, data from various sources is leveraged to meet that goal, giving mental care practitioners deep insight into what is going on with the person between sessions - biomarkers, behavioural and environmental data. Some even speculate that the psychologist of the future will also be a data scientist, yet warn that digital healthcare products should always remain patient-centric, in other words: treat the patients as main stakeholders, not data sources.
Nevertheless, a data-driven approach also causes some privacy and data ownership concerns. For all digital products these days but especially so for the healthcare industry where patient data is particularly sensitive; and the ability for users to own and easily share their data between healthcare providers may be instrumental in their ability to get appropriate diagnostics and treatment.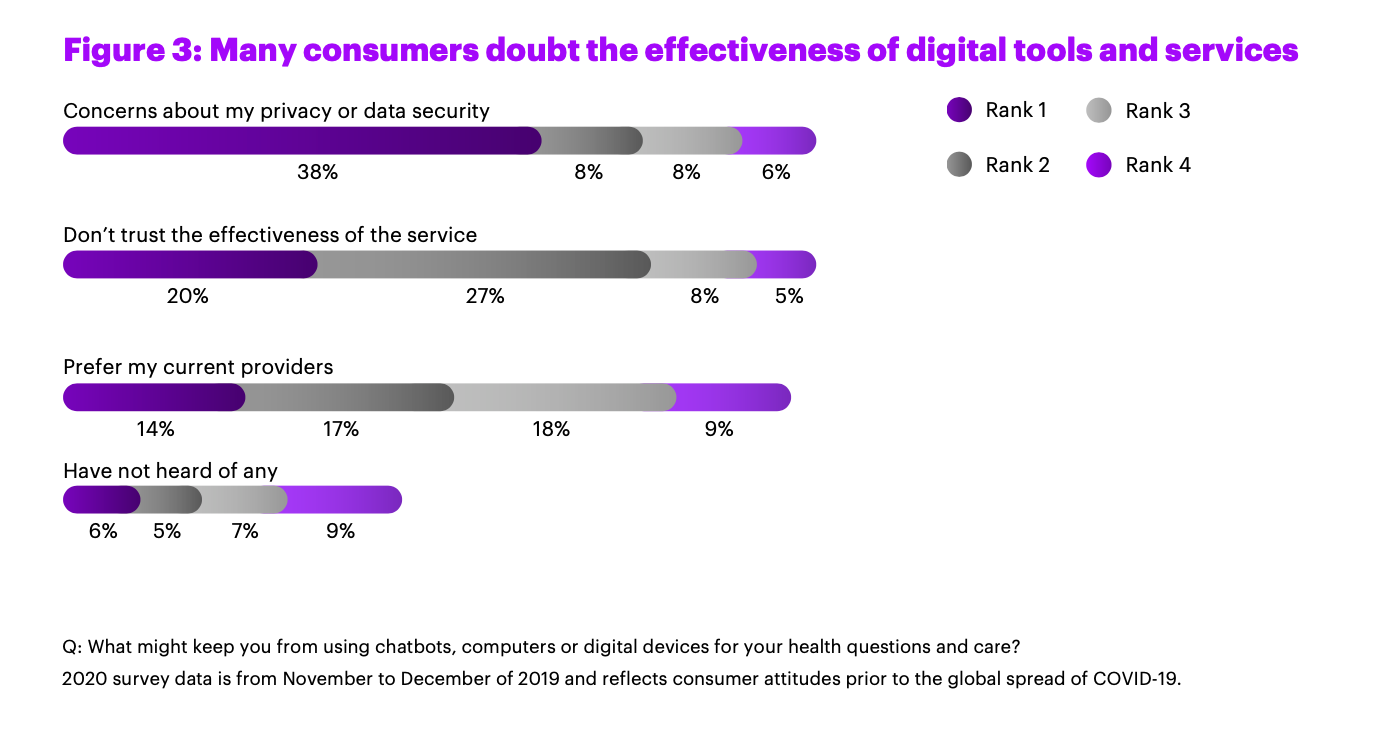 Graph source: Accenture
Healthtech challenges
Nevertheless, digital solutions are not able (or aiming to) replace doctors, but rather support and empower health practitioners giving them data to make better decisions; many of them are already proving invaluable in reducing the strain on the healthcare system. To make digital health widely adopted, however, there are some challenges that need to be solved.
Health equity
Even though health is a basic and fundamental human right, health equity (in other words, equal access to health care) has traditionally been a challenge for many populations and individuals. Even those normally on the 'winning side of the equation' are not guaranteed to have continued and uninterrupted access to quality healthcare services, as we've been recently reminded by the disruption caused by COVID-19.
One of the big challenges in front of digital health is how to make those solutions available to underserved populations (whether due to socioeconomic factors, limited access to devices/bandwidth, or stigma).
Scalability
To make healthtech widely available, healthtech innovators also need to think about their products' scalability - the capability to quickly increase capacity and serve more users. Most of the solutions take a blended approach towards care to provide a personalised experience where health experts are embedded in the process.
A growing number of patients means increased revenue, but also increased operating costs in terms of facilities and staff. New technology that increases revenue and lowers staff and facility costs, may help lower operating costs and make the business scalable.
Regulation
Especially in some markets, regulation is another pain point for health innovators, and in general it seems that regulators are not keeping up with the rapid development of digital health.
Key factors when choosing a digital health provider
Healthtech, much as healthcare as a sector, is not like any other - for obvious reasons like having a direct impact on the life, health and wellbeing of humanity; but also terms of product development: in health tech you can't create demand if you don't have a need. Thus, for the successful adoption of digital healthcare solutions it is vital that they are affordable, accessible and of good quality.
Research shows that key factors in choosing a digital health provider are:
1) (by far) customer experience;
2) credibility and trust; and
3) perceived benefits from using the product - unlike traditional healthcare the overall experience in digital health is largely consumer-driven.
In conclusion
In all of healthcare, there is no 'one size fits all' approach, each individual's needs and challenges are different. Thus, the goal of healthtech is to harness the power of technology and recommend holistic, individually-tailored treatment plans. More and more health providers nowadays are entering the 'digital front door' - a term used to describe the strategy about how to engage patients at every major touchpoint of this patient journey using technology, in order to give better and faster care, while lowering costs.
While the focus and approach of health tech solutions may vary greatly, they do share a common goal: providing a holistic experience around maximising patient outcomes.