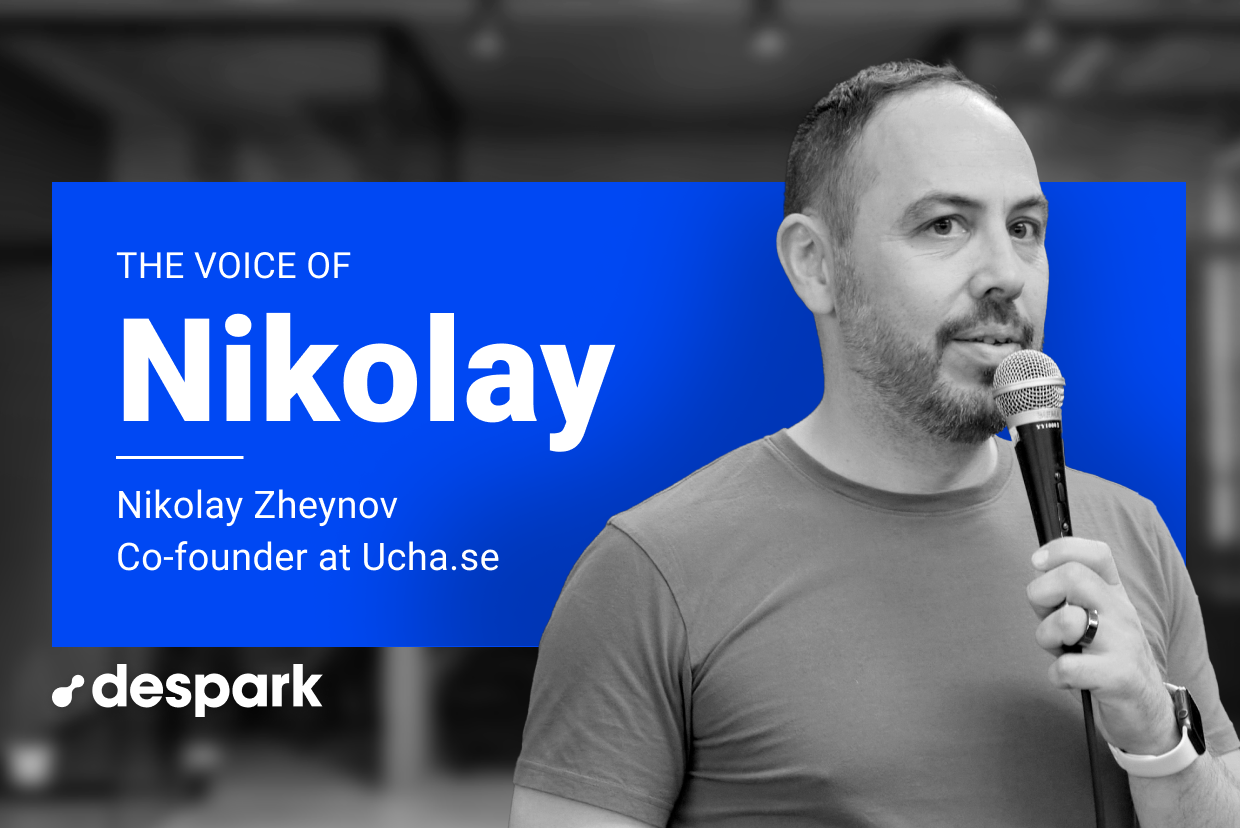 Nikolay is the co-founder of Ucha.se - the biggest education platform in Bulgaria, with over 1 million users and numerous schools across the country. The platform includes short video lessons for K-12 learners that explain the school material in a fun, simple and easy-to-understand language. A while ago, Ucha.se and Despark collaborated on transforming Ucha.se's brand identity and improving the UX/UI of the platform, enabling ucha.se learners to have a smooth user experience and easier access to features (Check out the project case study).
In this piece, Nikolay shares his insights on the purpose and functions of gamification elements in education.
What is Gamification in EdTech?
Video games are created with the idea of engaging and entertaining players, and often, one finds oneself completely immersed in the experience. We have all felt like one more level is never too much. What could be better than integrating that same idea into something really useful? This is the mission of Gamification in education. It is a modern and extremely successful approach and at Ucha.se, we have been applying it for ten years in our country, and recently also in three more countries - Romania, Italy and Spain - through our platform Eduboom.
We believe that students learn the material best when they are having fun. And it's not just that - they also learn best when they have goals, tasks, and generate achievements. We use Gamification in our platform to stimulate engagement, help students assimilate new lessons more easily, and test their knowledge. We encourage them to keep playing and earn more points, rewards, or simply discover more information. This gives the "players" control and they feel as if they are in charge of their own journey through the world of knowledge, getting from point A to point B. That's what good learning is all about, isn't it? :)
The benefits of Gamification in Education
We have seen Gamification used in trade, banking, the field of information technology, and healthcare. This is undoubtedly a working model and implementing gamification techniques increases people's engagement and helps them achieve their goals. Game-based learning is also growing rapidly in the academic and corporate learning sectors, and the benefits of gamification in e-learning are enormous.
Gamification improves knowledge acquisition
Passive learning from books and listening in class does not always help in understanding complex topics. Gamification, on the other hand, transforms the learning experience and engages the student in an adventure built around milestones and achievements. This approach allows students to make associations with the material and remember it quickly. In this way, we motivate users to learn consistently, receive rewards for successfully completed tasks, and share their achievements with each other. Another plus is that the knowledge is retained longer.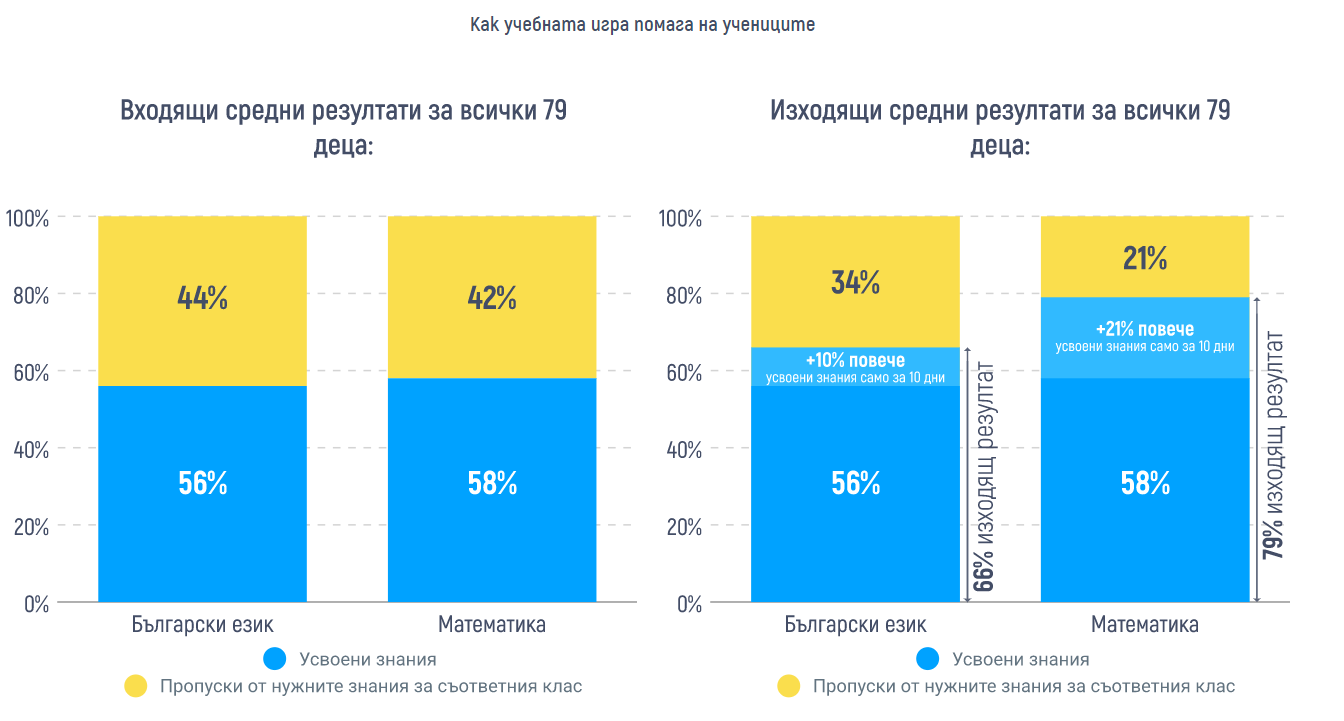 Comparison between the acquired knowledge through gamified learning in Bulgarian language and Maths – results from Ucha.se.
Immediate feedback is an incredible motivator
When students study a topic independently, it is difficult for them to assess their own knowledge. In face-to-face classes, teachers do not have much time to give feedback to each child. Gamification, however, can provide it immediately through quizzes, interim rewards, and result confirmation pop-ups. This is great for learners as they know they are moving in the right direction and keep learning with interest. Last but not least, we recognize that gamification also helps to develop "soft" skills such as problem solving and strategic thinking.
Implementing gamification elements – best practices from Ucha.se
Games are a natural way for people to accumulate knowledge and skills. We all know that regardless of the type of game, we are highly motivated by accumulating points and reaching the next level. On the Ucha.se platform, we use different techniques to make the learning process more accessible. This partially satisfies the students' need to play and allows them to be more focused on other activities.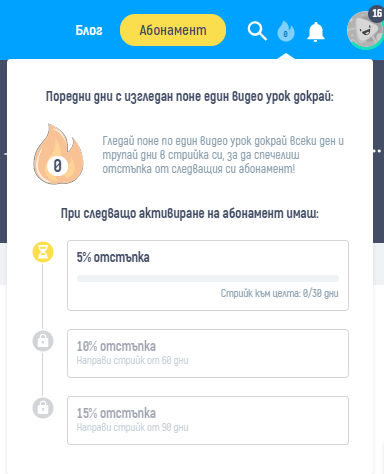 Stimulating student consistency through collecting points
Creating a game-like learning experience
In addition to the video lessons, tests, talks, and mind maps - which are themselves designed to hold the student's attention - we also offer a learning game experience to users. In it, the user first determines their level – they take a diagnostic test and immediately find out what their level is in the given subject and class. The test reveals with great accuracy where the gaps are and adapts to the student by offering easier or harder questions, accordingly. Then, the user starts to fill in the blanks after the diagnostic test.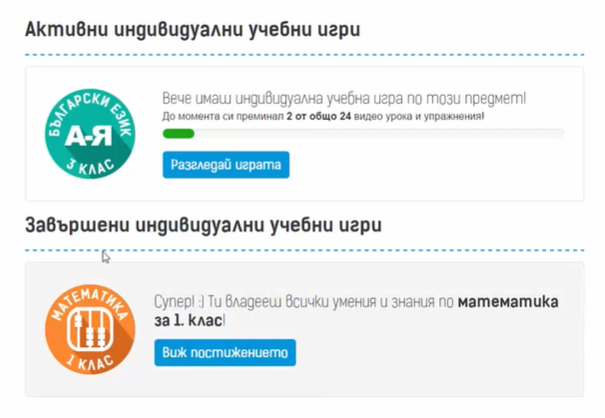 Ucha.se offers students individual learning games based on their current progress in a subject
Making the learner a true hero
In the games, they choose the video lessons and tests from the card selected especially for them, to fill in the missing knowledge. Then comes the most interesting part - facing the boss in the game. There, the student takes a diagnostic test again to check their progress. Once they achieve a score of 100%, they win. When using the platform, as in many video games, students develop their own character. Here, however, they are the hero. Through gamification and various visualisations, we show their development and this helps them recognize their progress. This way, we increase their confidence and satisfaction with the learning process, and in the long term, their self-confidence and desire to develop further and further.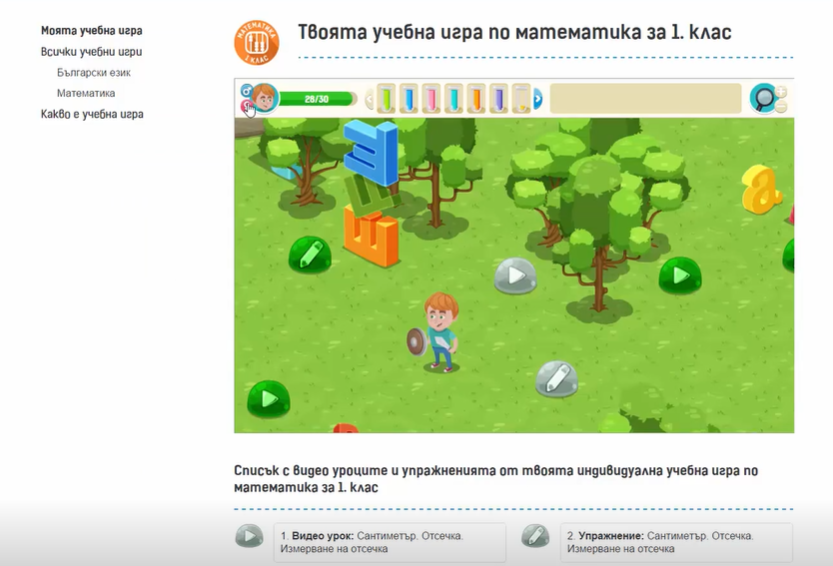 The learning game of Ucha.se
Striving to reach the next level
Also, the development of each account on our site and app involves collecting badges and unlocking levels, which incentivizes students. Everyone has a personal profile and its development depends on various components based on consistency and activity on the platform - number of videos viewed, tests solved, visits, and others. We have noticed how game-based elements increase natural curiosity and motivate students to track their progress and voluntarily engage in learning.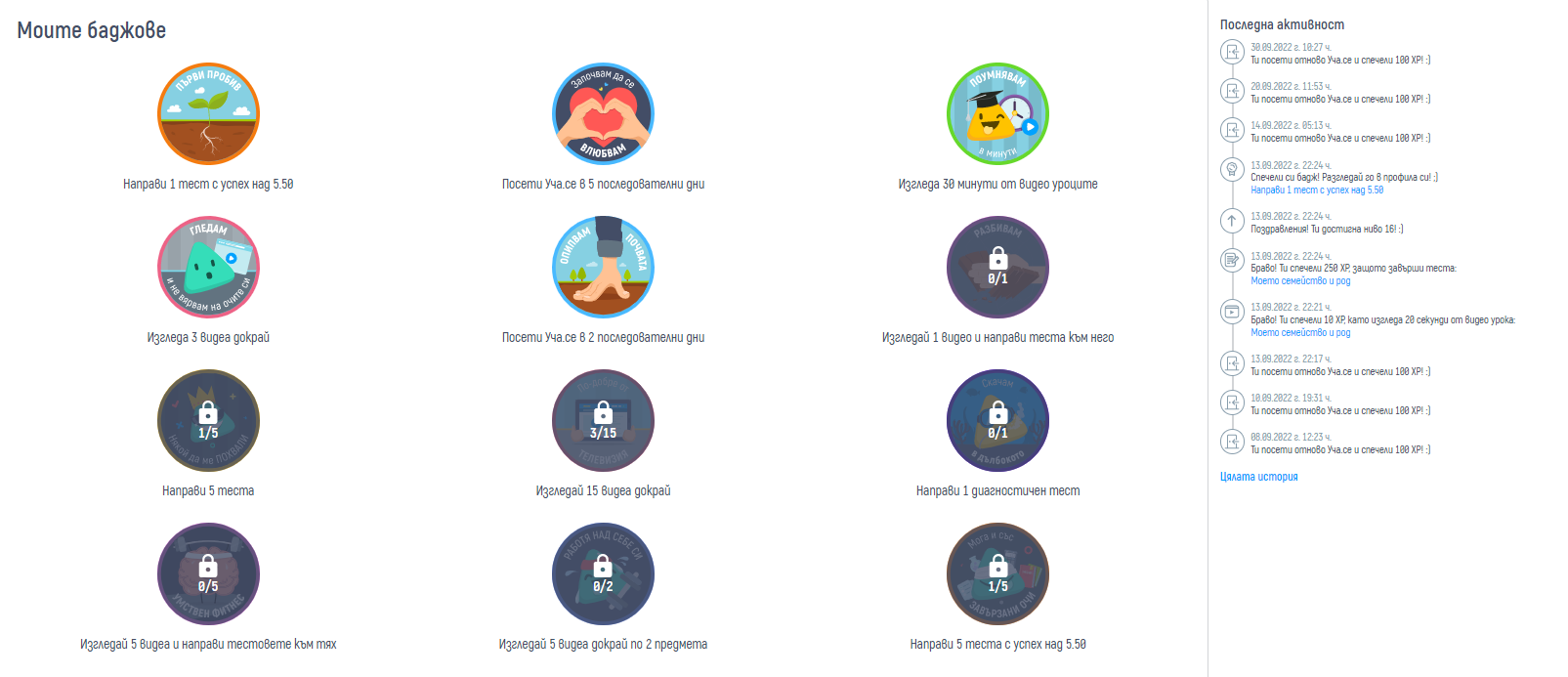 Some of the badges a student could collect in Ucha.se
Inviting others to join the game
We also have the "Invite" option, which is a great way to attract new users, as learners may want to compete with their peers and ask them to join the platform. The teacher trainings we offer to schools also invariably include gamification as a successful teaching method, and the feedback from teachers who implement these techniques is entirely positive and produces real results.
Gamification with a purpose
Gamification is only useful when it serves educational purposes. We realise that any element which distracts attention from the main goal of learning, retrieving, and retaining information is not useful to the process itself. That is why we design everything in a way that supports the learning process, offering gentle nudges to students to keep them engaged.
EdТech companies must keep up with the latest trends in education in order to provide the best experience for both teachers and students. Ucha.se has found in Despark a partner that is innovative and full of ideas, thanks to which we have applied the game element approach and thus transformed students' perception of learning as a routine. The design of our platform and all its elements arouse interest and make the time spent on it pleasant and beneficial. Our mission is successful!