Back
StepJockey
Making a difference in people's health one step at a time with Step Jockey
Recent research shows that sedentary behaviour now kills as many people as smoking. With office workers spending 60-80% of their time sitting during their workday, this sparked a mission for StepJockey to tackle sedentary behaviour in the workplace. By climbing just 8 flights of stairs a day, Harvard researchers has proven can lower early mortality risk by 33%, a significant statistic that needed a simple solution.
StepJockey tackles the associated health risks of low physical activity in the workplace by gamifying stairs in offices across the world. The ecosystem is made up of unique smart signs, a digital communications pack and gamification platform.
Despite being a successful digital product, there was a long way to go to increase engagement levels to make it part of everyday use. The app was free and easy to install already, but users weren't making use of all the app's features, nor did they have a way of easily getting colleagues to participate.
Corporates often struggle with internal communication and the roll out and reporting of corporate wellness initiatives. StepJockey's new offering set out to improve the way employers can spread the word of fun, collaborative exercise in the workplace, without the need for large-scale investment.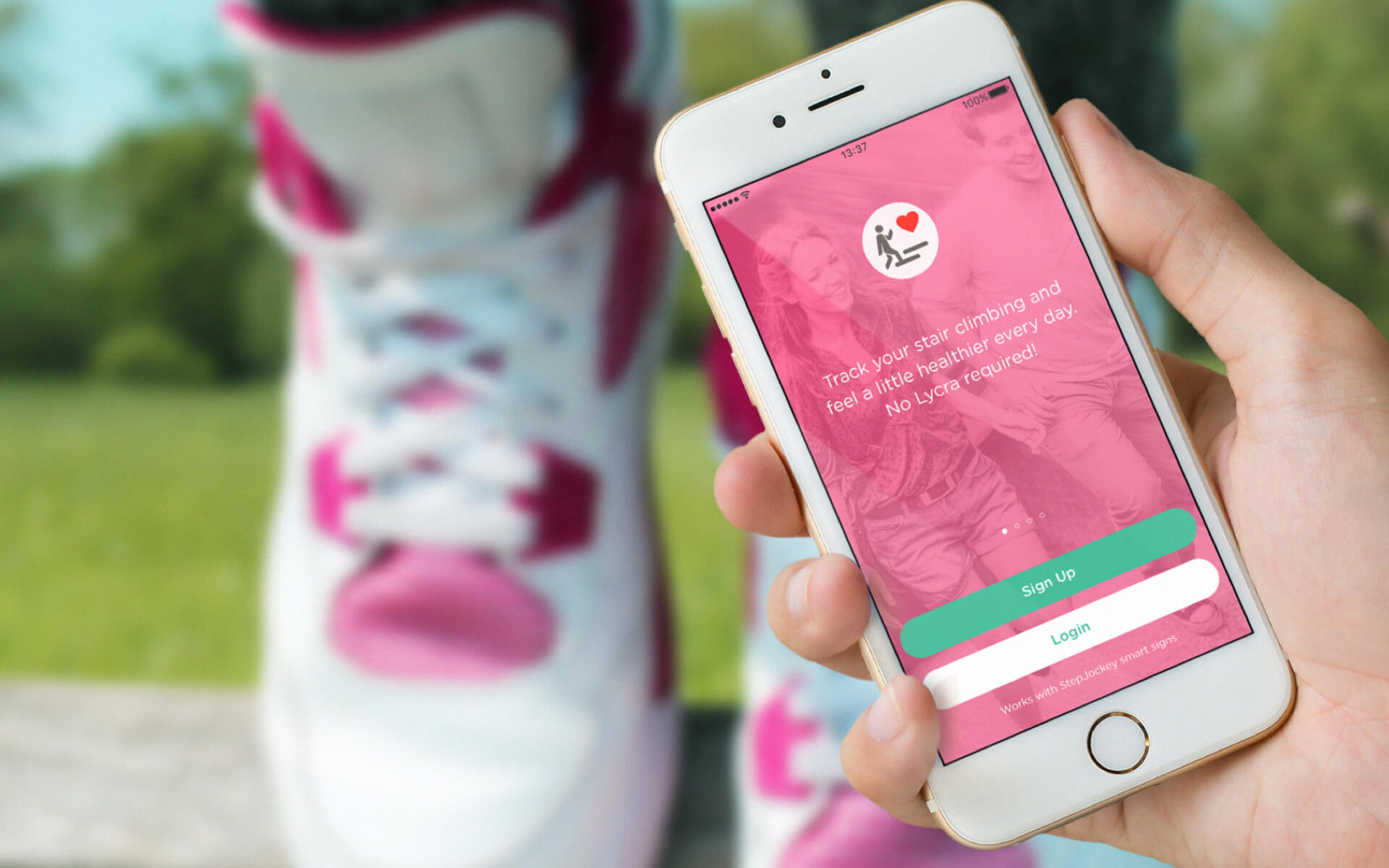 The Brief
Digitally transform the app's experience, making it more engaging for regular use and encourage users to invite new participators along to challenges.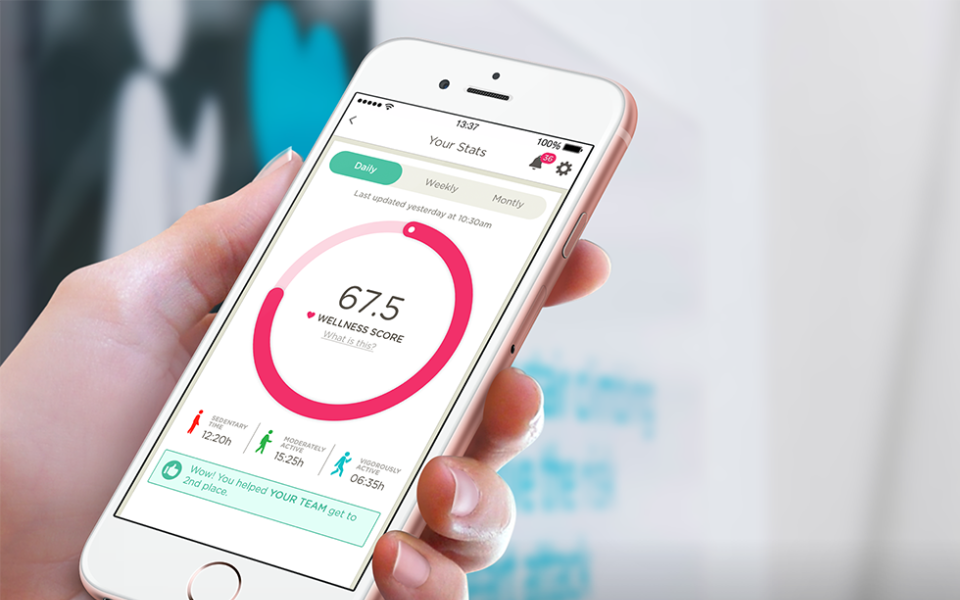 The Approach
Despark and StepJockey joined forces to fight sedentary behaviour at work, by redesigning and developing the gamification platform for iOS and Android.
The app had to make fitness fun, competitive and become habitual. Historic data from previous players inspired different gamified simulations to create fun and engaging stories. Who knew John from Finance did enough steps in 4 weeks to climb Mount Everest!
As the majority of smart device users are iOS and Android based, this and many other factors, such as offline use, were key considerations for the redesign. The app was to provide a clean, enjoyable experience with offline and online functionality, enabling engagement when not connected to Wi-Fi and avoiding the need for mobile data.
Despark and StepJockey took an analytical and experiential approach to develop new wireframes, user stories and design choices that fit the qualitative and quantitative research gathered. All existing features were refined and new useful features were added to finesse the product. These include:
Step tracker - Telematics to record steps walked throughout the day.

Push notifications and awards - Motivational messages, reminders and performance trophy wins to keep users engaged and progressing towards goals - improving their personal health.

Personalised activity score - Seamlessly integrating with Apple Health and Google Fit, StepJockey also silos sedentary and physically activity to clearly report activity during the workday.

Company wide challenges and mini challenges - users are able to create teams, invite colleagues and win prizes when taking part in company-wide 'office games' and 'around the world' challenges such as Climb Everest or Towers of the World.
Leveraging earlier research, the new app introduced the ability for players to not only place in leaderboards and compete against colleagues, but also added a social element to compete with friends in non participating workplaces. This new inbuilt feature opened up a B2C market for StepJockey, enabling everyone to engage with its features, drive revenue, whilst increasing virality levels and app downloads.
The Result
With over 235,000 global stair journeys recorded and 9,400 cross platform downloads, StepJockey has cemented itself as an alternative workplace exercise activity. Having launched in January 2017, the platform has registered a total of 20,405,468 steps - that's almost 243,000 steps a day!
StepJockey's engagement rates improved by 12% vs the previous version and over a 3 month period from launch, 6,390 steps were taken by users with an average of 589 calories burnt.
The stats are very promising but what was the best achievement is that 74% of actual users reported they felt much healthier after partaking in the StepJockey challenges, with 75% now using the stairs more often and 93% wanting to take part in more challenges!
Backed by the Department of Health and an average of 4.5 star app store reviews (5 star ratings consistently since re-launch), StepJockey is changing the way people get fit in the workplace, one step at a time.
*Data is recorded from January 9 to April 24 2017 and based on 22% of all StepJockey iOS users opting to share their data with developers
Visit the StepJockey website, download the app and read more about their corporate wellness offering.Get in touch with us on contact@despark.com if you have a project in mind.