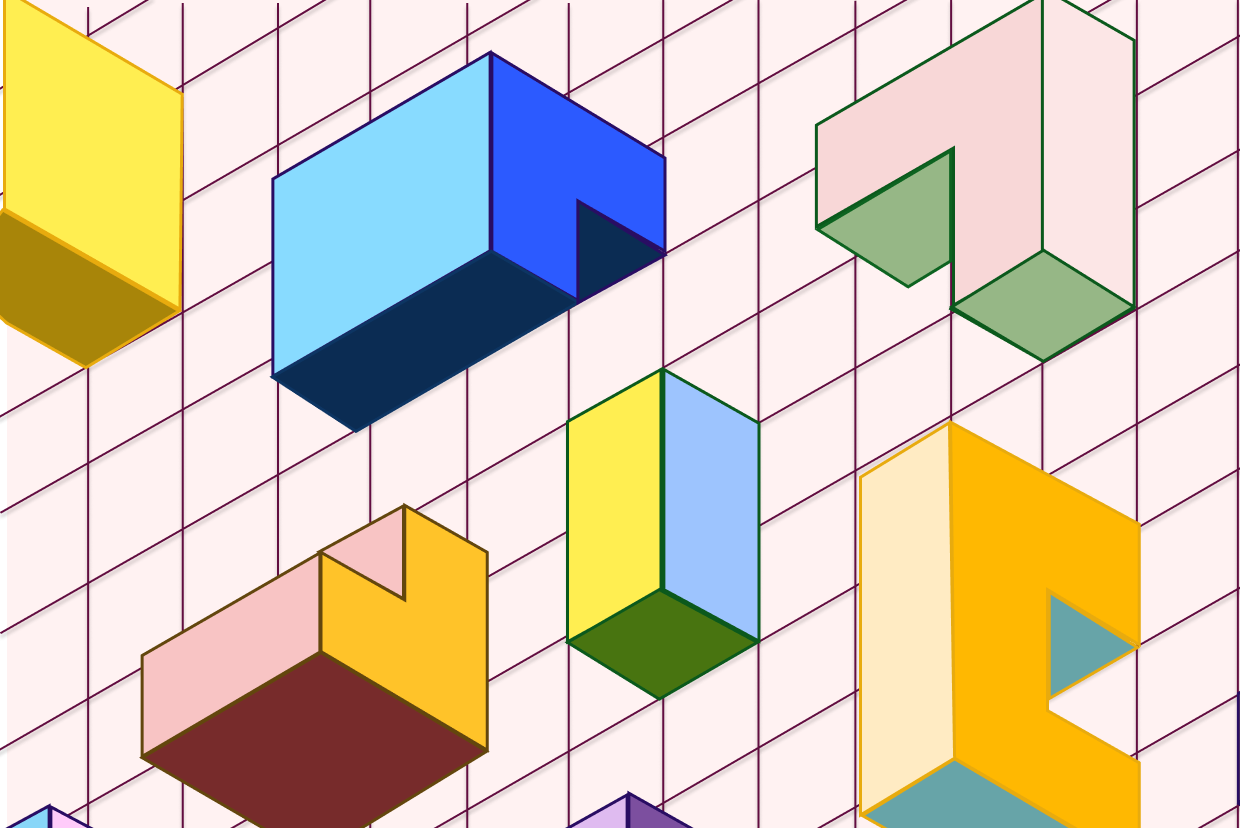 So you want to create a mobile app for your business. You were most probably advised about starting off with a prototype that can help you bring your idea into life. But is this all a prototype can do? We debunk some prototyping myths and take you through three cases where prototyping was much more than a design asset for clients.
1. What is and is NOT a prototype
Prototyping is a crucial part of the product design and development process that ensures the digital experience of the product meets the user's expectations. A prototype is a test version, or a simulation of a product that is put together to examine a new idea. A prototype is NOT the final product - it doesn't have to be high fidelity or pixel perfect. It just needs to serve is purpose, namely:
present a potentially complex idea in a realistic form to its target users and stakeholders

allow them to interact with the simulation through good approximations of the real (to-be-developed) product

capture feedback from test users that can be used to improve the initial prototype
Why should you care
Without prototyping, we assume we'll get everything right from the get-go, and we end up spending a lot of time, money and resources to build something users won't or can't use. Think of prototyping as a method for identifying and discarding ideas and features that are simply not going to work and identifying crucial features that you missed in your original brief.
2. Types of Prototypes
The prototyping process usually involves a range of product prototypes, across a spectrum of fidelity, from low detail to high detail.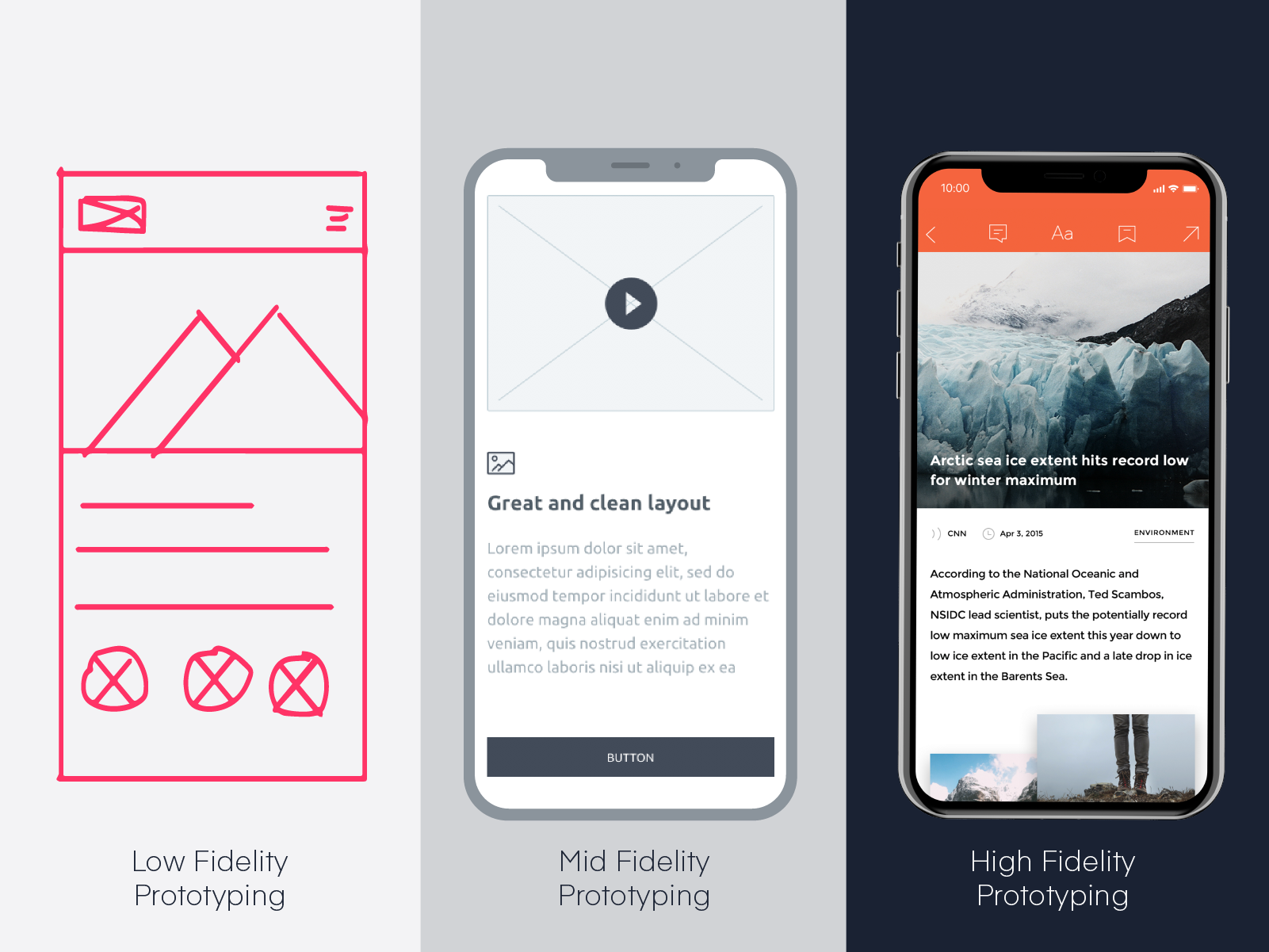 Various fidelity levels of prototyping. Image source: Codepen.io
At the start of the journey, designers usually focus on low-fidelity approaches that are low cost and fast to implement - like sketches. Paper is also a perfect tool at this stage in the process. Once everything has been laid out, they move to a higher fidelity - creating lo-fi prototypes with wireframes. A wireframe is essentially like a skeleton for the design - it helps you stay focused on functionality and not get lost in details. These are given to stakeholders, so they can get a much better picture of how everything works together but they are usually stripped out of the look and feel. Finally, it comes down to more detailed wireframes and clickable mockups that simulate a final build, including interactions and transitions, as well as the visual design of the app.
3. Why prototyping is more than just a nice design
Different stages of prototyping require different tools and raise different concerns, whether that's user needs, navigation, information architecture or visual design. A common misconception is that prototyping is a visual design draft that doesn't have that much value for the final product or the business direction.
The golden rule of prototyping - and developing any new idea - is to fail early and fail inexpensively. The deeper into a project you are, the more expensive it is to fix mistakes and misunderstandings, especially when the development team is involved.
Prototypes can also act as a bridge between designers and developers. When the design of a product or feature is finished, and is passed on to the developers, a high fidelity, clickable prototype ensures that developers clearly understand what is what.
And speaking of bridges - prototypes help get everyone involved in a project: designers, developers, project managers, business analysts, and everyday users (and that's just the tip of the iceberg).
Having a prototype of how something actually works can help users and stakeholders realise cases that might have been overlooked in the user flow, like pointing the focus towards the wording and its key role in the user journey. And we sure have really strong opinions about how to approach the UX/UI design.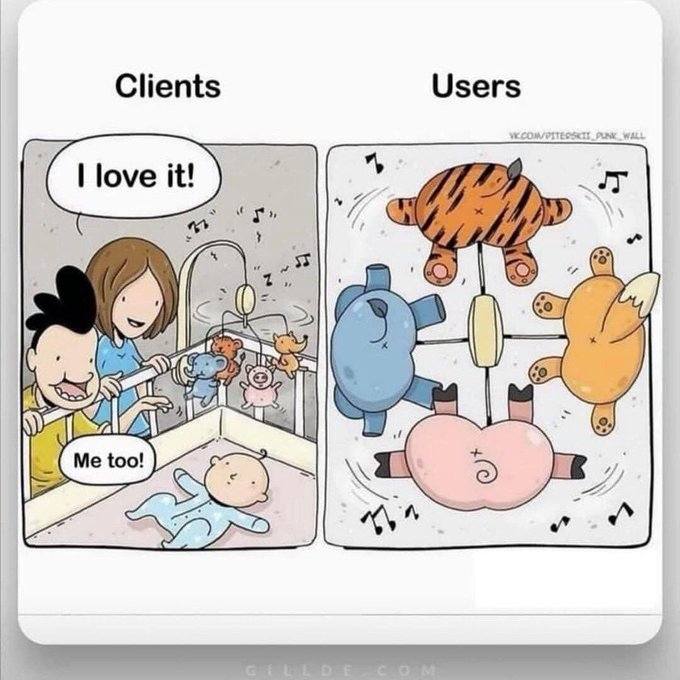 Client's view and user's view. Image source: Twitter
4. Making the most out of a prototype for your business
If you are a business owner or an entrepreneur, and you are thinking 'why do I need this prototyping in the design time and budget?' Here's three very good reasons to keep the prototyping and how to make the best of it.
Using the prototype for internal testing is a really useful approach because it gives you a chance to step out of your role as a founder/project leader and be a neutral observer. Some stakeholders might lack the operational detail on the product requirements, but can provide useful information about what's to come based on the prototype. However, once internal testing is done, make sure you go beyond the biases of your team and involve the customer - that's the whole idea of a prototype.
When developing a new feature, our long-term clients Altrix, tested prototypes of the new feature among the team and they not only gained feedback, but they also prepared them for the new update, making team members more engaged in the process and easing the onboarding process once the feature was deployed.
Of course, it's not just your internal team and your customer that you need to convince: introducing a new idea to an established market is expensive. A prototype is absolutely vital - and, in the case of some investors, mandatory - for securing backing.
Presenting a detailed and thought-out prototype demonstrates that your team has the know-how and the dedication to build and market a viable new product. You want to make sure your prototype can provide insights and answers to investors' doubts, such as:
Is the market need validated?

Is your idea implementable?

Is there potential to maximise returns?

Have you considered the production costs and technical considerations of your idea?

Are you committed enough to your idea?
Gather validated learning about customers with the least effort.
Last but not least, every iteration of a prototype will reveal more detailed feedback and help you get closer to an actual product. Eric Ries, the entrepreneur and famous author of the bestseller 'The Lean Startup', talks about a 'prototype mindset'.
The longer you spend working on something, whether it's a prototype or a real product - the more attached you'll become, and the less likely you'll be to take negative test results to heart.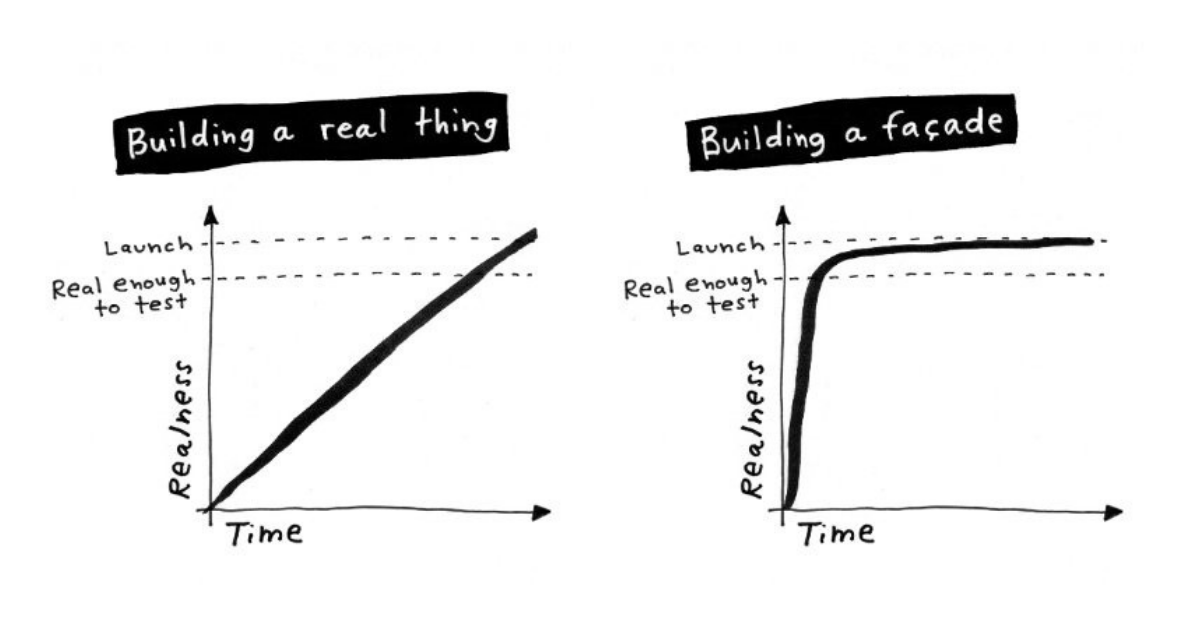 Source: Eric Ries' blog
So instead of trying to build the real thing, you should instead aim at building a 'real enough facade' that can let you test early and gather feedback. If this philosophy doesn't ring a bell, check out our article about having a Minimum Viable Product mindset and how you can collect the maximum amount of validated learning about customers with the least effort.
Wrapping up
If you are looking for a partner to help you build the real deal, you've come to the right place. But before that, we'll do our best to craft effective prototypes that will give you enough insights about your idea and save you useful time from reworkings. We have a proven track record in building and launching various digital products, and we can support you in clarifying and developing your proposition. Get in touch at contact@despark.com