One of our fundamental values at Despark is curiosity. It's what moves us forward — being curious about new ideas, technologies, challenges. It is at the core of who we are and one of the main qualities we look for in a potential team mate.
Despark has grown both as an organization and individuals for the last 10 years. And for this whole time we have managed to sustain an average tenure rate for our current staff of 44 months. This means that the people who are currently with us have spent an average of 3.6 years with Despark! For an industry where companies are discarded faster than a pair of shoes, this is a number to be proud of.
But there are also several challenges that come hand in hand with having a team of "stayers". How do we encourage people to remain curious and continue learning? How do we promote curiosity and keep them always eager to improve?
We decided a little while ago that starting in January 2017 everyone at the company would have a budget of €500 for the year (or about €40 a month) to spend on their professional and personal improvement. We called it our "learning budget" and started measuring how people spend it, along with what types of learning tools they prefer using.
Why €500?
After a bit of deliberation, we felt this was a good start. It can cover either something bigger like a conference and a longer course or a lot of smaller learning tools like books, online courses, and subscriptions. On one hand, it requires you to be creative and choose wisely what to do. On the other, it is manageable and not an overwhelming to the point it makes you anxious.
However it seems on the individual level, it is still a sizable investment for us as a company, allotting €15,000 on an autonomously managed learning budget in a given year.
Our Learning Budget
Committed to Fairness (another one of our main pillars), we needed to find a way to make learning accessible to everyone and decided not to limit the way the budget was used. This means that people can use it freely for any educational tool or service they see fit and most effective. Team members are different and while one is excited by cutting edge technologies and wants to visit the newest conferences, another learns better in the comfort of their home, by reading books or taking online courses.
What is more, this budget can be spent not only within the confines of their role, but also for personal development and self improvement. We believe that learning should be a holistic approach and the allowance is there to help our team become better in every sense of the word.
Lastly, the budget is not transferable, which means that it needs to be spent in the current year. We also tend to remain flexible — if there is something that exceeds the yearly amount but the person feels strongly about it and convinces their lead it's worth it, we cover it.
How did the team spend their learning budget in 2017?
We spent 39% of our learning budget in 2017, with 15 people out of 25 taking advantage of it. There were months with no spending and others when we saw lots of activity, depending on the season, availability, and workload.
Very honestly, at the start of this we thought the number would be higher. We did keep the team quite busy last year so that could partially explain it, but we'd still like to do better. At the same time, we believe in autonomy and not forcing people so seeing initiative is important. It's up to the leadership team to show the door, but it's up to the person to walk through it.
Hence why our main focus in 2018 will be to create an environment where more people use the budget. Our CEO, Hristo, reminded the team of the opportunity at almost every monthly catchup last year and we will continue encouraging them to invest time (and money) in learning.
A few graphs to illustrate things better. Here is how we spend the budget divided by teams: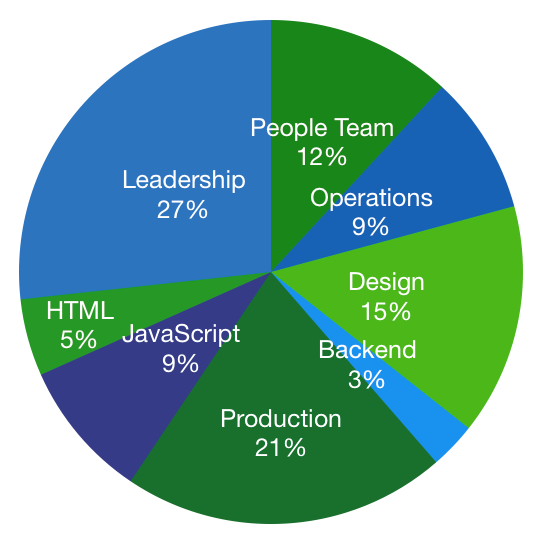 I guess you can make a few jokes here about who has the most amount of free time at Despark… Though we'd like to think of it as a "lead by example" situation :)
Back on a more serious note, this is the type of learning they invested in: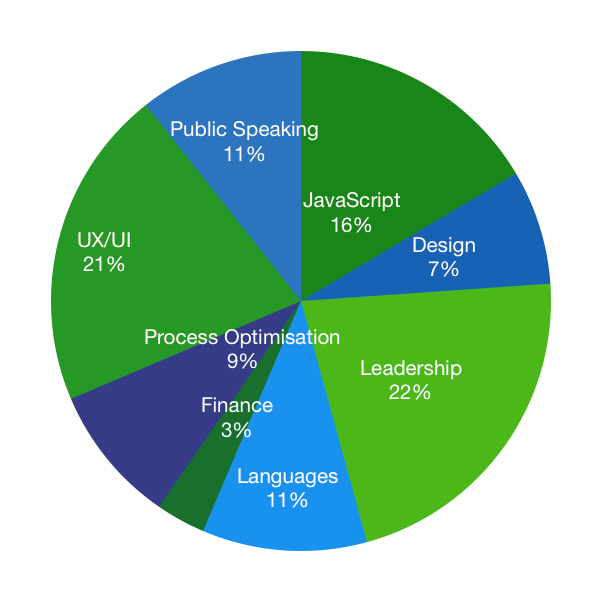 To be more specific, here are some examples of what people have chosen to spend their budget on:
The first React Native conference in Wroclaw
Verse UX/UI course
First steps with React course
Financial books
Books of all kind for our bookworm Lora 🤓
Various Udemy courses
Future of work conference
In conclusion
Continuous learning is a major focus of many tech companies like Buffer, Slack, and Shopify, to name a few. There's no point in extolling the benefits, they are self evident. The question is how to create an innate learning culture rather than make it feel like a management top-down imperative.
We decided to put trust in the team by letting them manage this and make the most of the opportunity. As usual, it is a process that needs constant iteration and we're bound to make mistakes along the way. But the best part is we're all learning together.
We've already noticed a much higher engagement in Q1 2018 compared to before, a promising start. What also makes us happy is seeing that people who have recently joined Despark are embracing this benefit and are already taking advantage of it. We'll keep you posted!
What do you think about our learning budget? Would you use it if you had this opportunity and is it something that your company would implement?