Тwo years ago Despark embarked on a journey that changed the company for better in many ways. Transparency became one of our main pillars and as part of that, we are now more open and honest, both internally and externally. After revealing how we changed our values, mission and vision, and sharing our drive to achieve mindfulness and empathy within the team, this blog post is our attempt to share one more piece of the puzzle of trying to build a better company.
Fairness at Despark and why we need a salary model
I will never get tired оf saying that our strongest desire at Despark is to work on incredible projects that have an impact оn the way people experience the world. In order to achieve that, we need an amazing team that is motivated and ready to walk the talk — building impactful products sounds deceptively easy. We believe that being honest, transparent, and fair with our people is the best way to go and build such a team. We believe that this is the key to motivation, productivity and togetherness in the company.
Two years ago, we decided that it was about time to change the way we pay everyone and finally step outside the grey area called "salary negotiation". We knew that reaching our ambitious goals would be extremely difficult if:
The team is focused mainly on the salary they get and
Anyone at the company is unhappy and feels underpaid.
Inspired by Buffer and other great companies out there, our leadership team developed a salary model to help Despark become part of those who set the tone and trends in the industry and help move it forward. This was a big step, especially for Bulgaria, where bargaining for higher salaries, recruitment consultants artificially boosting salaries for better commissions, and even the grey economy is something that is generally part of the industry we operate in.
Description of the model and its components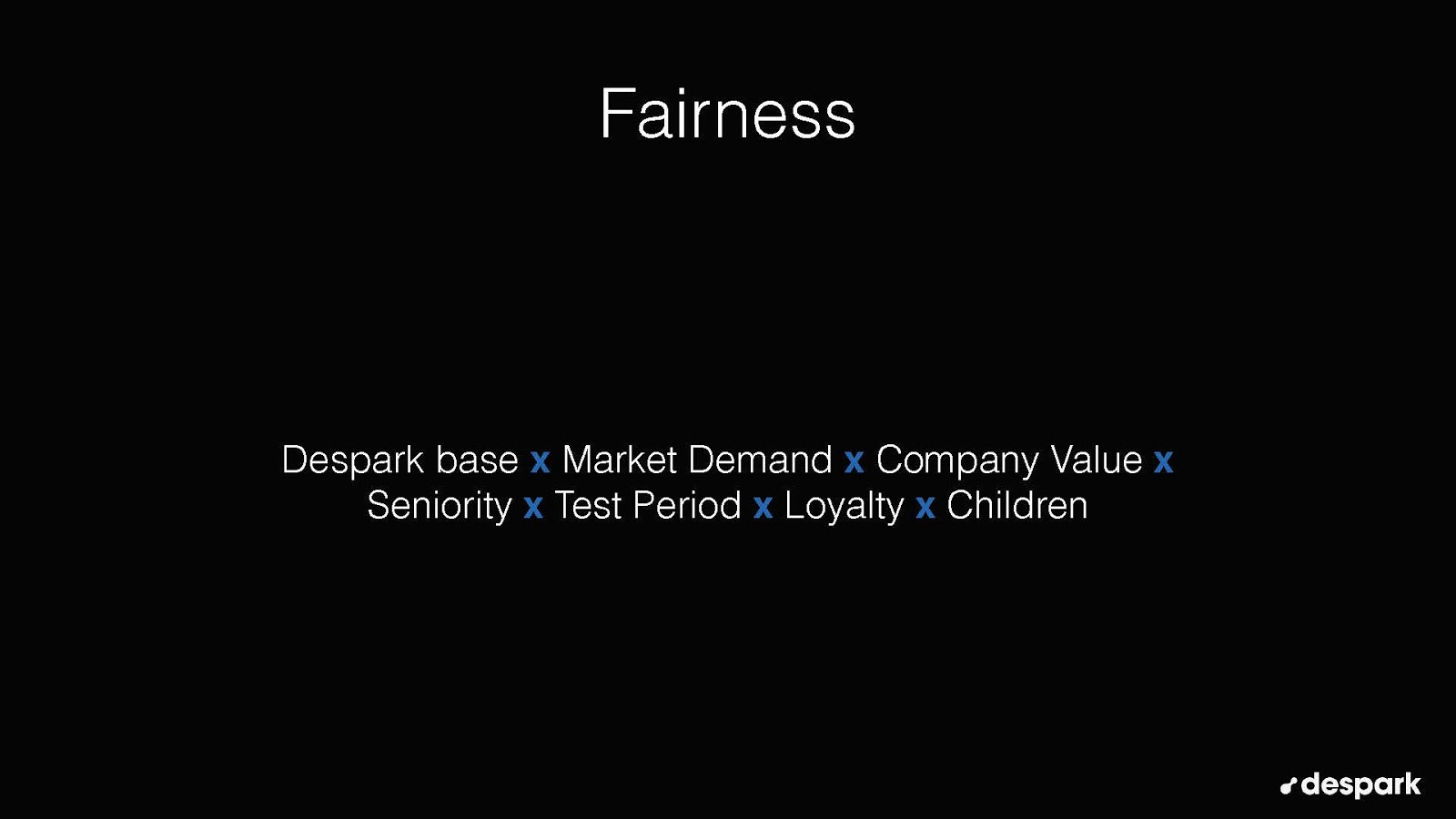 The salary of everyone here at Despark starts with a base which is indexed by the following variables: market demand, company value, seniority, loyalty, and children (if any). Each of these factors has a different scale and weight — eg., Seniority is 1 for junior positions, 1.3 for intermediate, 1.6 for advanced and 2 for master level.
For example, a Senior Backend developer would receive the following starting salary:
1900lv (Despark base) x 1.25 (market demand) x 1 (company value) x 1.6 (Senior) x 1 (Loyalty) x 1 (no children) = 3800 lv net salary
If the same team member becomes a parent in a year, they would be getting a salary of 4200 lv because of the monthly bonus for children and their loyalty to Despark (+1 year). The salary can change according to all of the variables — higher company base, higher market demand, change of the seniority level or acquiring a new technology.
How the model affected team morale
Of course, changes provoke more changes. We knew that the decision to become transparent will affect the team morale and hoped that it will be for the better. And we were right. The more trust we put in the team and the more they feel an integral part of the business, the higher their responsibility becomes. And now, when everyone knows clearly how much they earn and especially why they do — the only focus remains the great work that we are here to do.
How the model affected our hiring process
The decision to introduce the salary model and become internally transparent also had an impact on our hiring process.
When presenting ourselves to potential candidates we make sure that people are fully aware of how we calculate salaries and that what they get (if hired) will be visible to the rest of the team. This way, we know immediately if the candidate will fit Despark's culture or is not the right addition to our team. People who feel uncomfortable with the transparent way we form the salaries and pay the team would definitely choose a different kind of a workplace.
We also stopped working with external consultants and recruiters as it is no longer possible to speculate with the salaries, hence get a higher recruitment fee from us. This drastically changed the type of people we see at interviews. Most are now eager to learn more about our fairness and transparency initiatives, our people and culture, and especially the products we are working on.
At Despark, we never stop iterating and experimenting with initiatives that will help us build a stronger and happier team. We are constantly searching for ways to improve our innerworkings, culture, and even industry. Same goes for our fairness and transparency pillars — there is certainly a long way to go, but we've put so much behind our backs and learned a great deal that it is worth sharing. Hopefully it inspires others out there!