Do we need another self-improvement app?
We are seeing more and more digital products aimed at helping us to become more resilient, develop better sleep, focus or exercise habits, or improve relationships.
Well buckle up because this is a trend that's not going to go away. And those platforms that work on our mental health while using tools that are already intuitive to most of us — think video, personalised content, gamification, feedback, smooth user flows — are able to harness our insatiable desire for digital in new ways.
We're celebrating the launch of one such app here at Despark.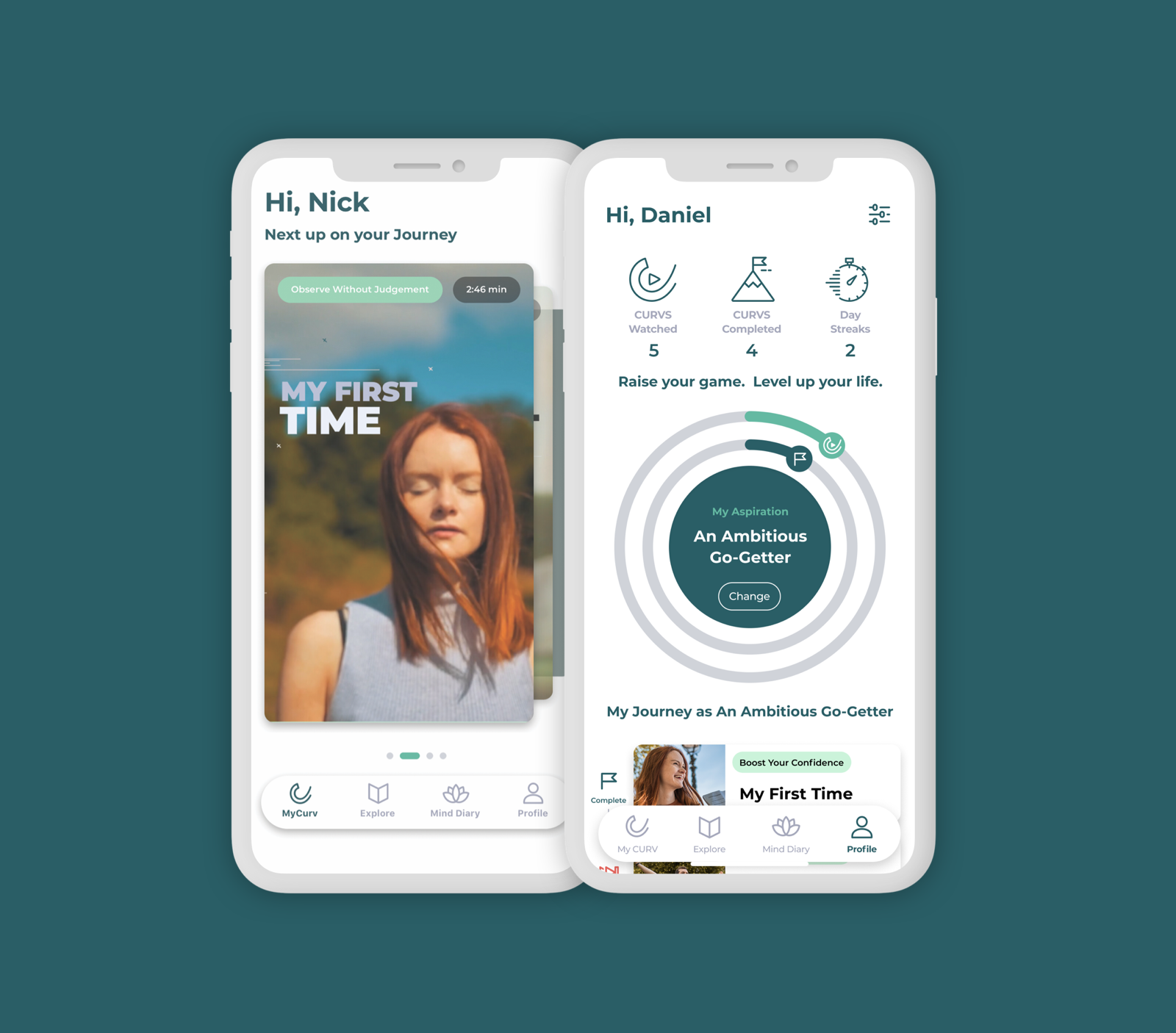 Curv is an app which provides 'Videos, podcasts, journeys and stories all catered to inspire and make self improvement an easy part of your everyday.' It helps users overcome procrastination, deal with anxiety, boost confidence and be more assertive in a way that meets users where they're at: namely rich media, strong narrative arcs, familiar language and a supportive user experience.
It's been a total honour to collaborate with Working Voices over the last few months to deliver Curv, which is now live in the App Store. Curv provides a wholly new immersive approach to self improvement, featuring cinematic content delivered in an engaging style.
What's interesting is that this content is bite-sized and yet powerful: this CURV-made cinematic content gets to the heart of an action quickly. In around 90 seconds you'll understand what you're going to do, how you'll achieve it and why.
Ethical choice architecture
We'll tell you much more about Curv and the journey behind it over the coming weeks, because it's an important example of an app that uses an intentionally ethical choice architecture. It's possible to create an experience that's 'sticky' without being unnecessarily addictive, that motivates you to progress and check in each day without prompting or even allowing you to binge. In this case, the user sets an overall intention right at the beginning of their journey (do you want to be an empathetic leader, for example, or an all-rounder?) and can choose up to 3 CURVS to view per day. They can only complete one per day, however, and once that is done they are prompted to reflect in a Mind Diary.
Introducing stopping cues like this is a great way to prompt the user to re-immerse themselves into real life outside the app, and implement the learning they have just done.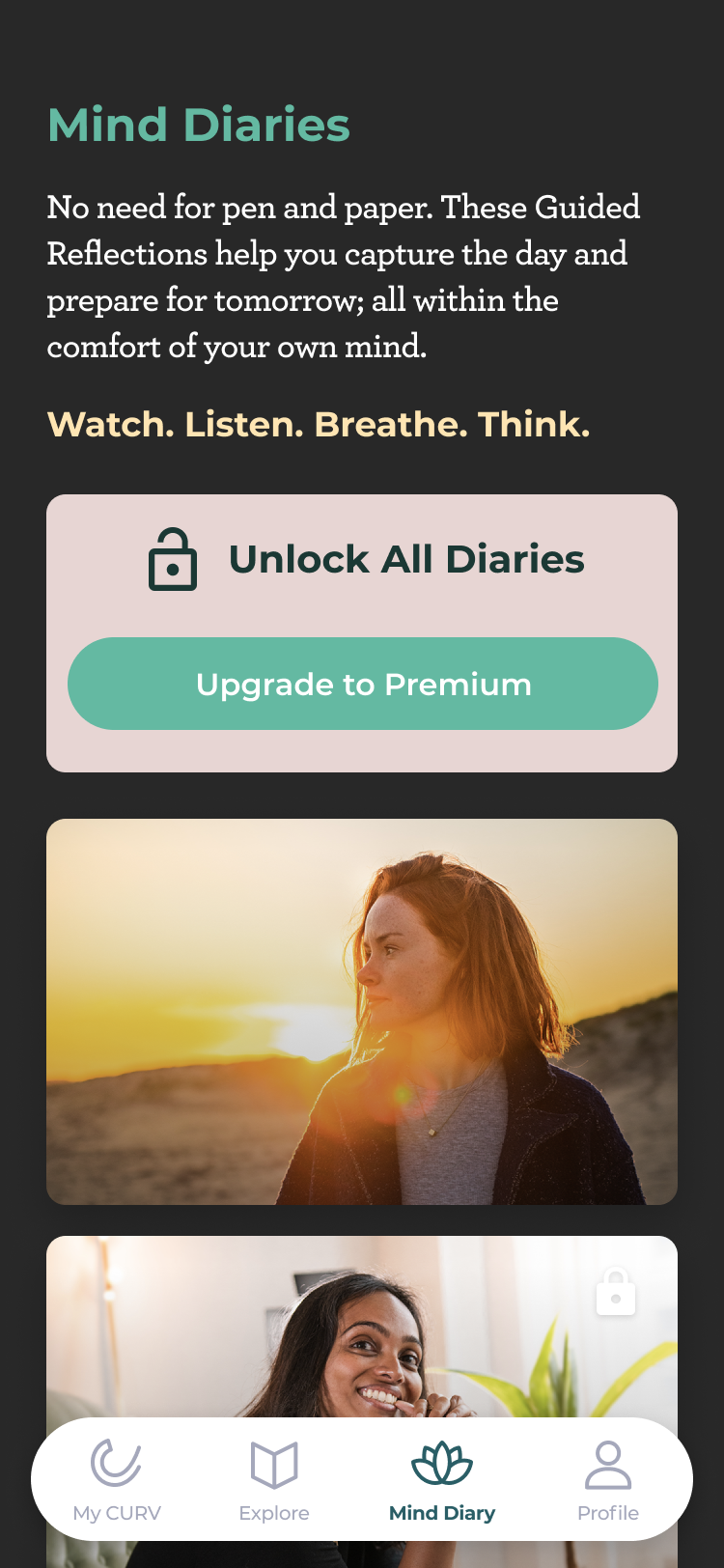 Building digital products which empower users to improve their mental health and develop better relationships with their devices, other people, and themselves is a big ask and a significant responsibility. If you look into the techniques the app industry has used over the last decade to manipulate and persuade users, addict and monetise them, it's clear that something needs to change.
Our responsibility

As a development agency we think it's our responsibility to give clients the tools and understanding to design ethical apps from the ground up, not just based on what's gone before. Whether creating an app from scratch or transforming an existing tool into digital, the opportunity to be intentional in the design of the user journey — not simply transposing your offline processes to digital nor emulating what others have done — should be seized.
Yes, there are established practices which use app features to push behaviour change, hook users and create dopamine dependency loops, but it would be ironic if, say, an anxiety management app that sought to improve mental health used these damaging tactics to get there.
So over the next weeks and months, we'll be returning to this theme, via case studies, industry discussions and more.
Make sure you're on our mailing list to be the first to hear about upcoming webinars, white papers and resources on this and other digital news. Read more about our work in health and wellness here.