Back
Baby Buddy
Together with Best Beginnings we created a virtual 'friend' that's given thousands of babies a better start in life
As a UK registered charity, Best Beginnings wanted to provide parents and parents-to-be with support, helpful information and tools during their pregnancy and for the first six months of their baby's life.
Baby Buddy is an app for iOS & Android, with a purpose to become a trustworthy virtual 'friend' that could share vital health information with the user, whilst remaining upbeat and supportive.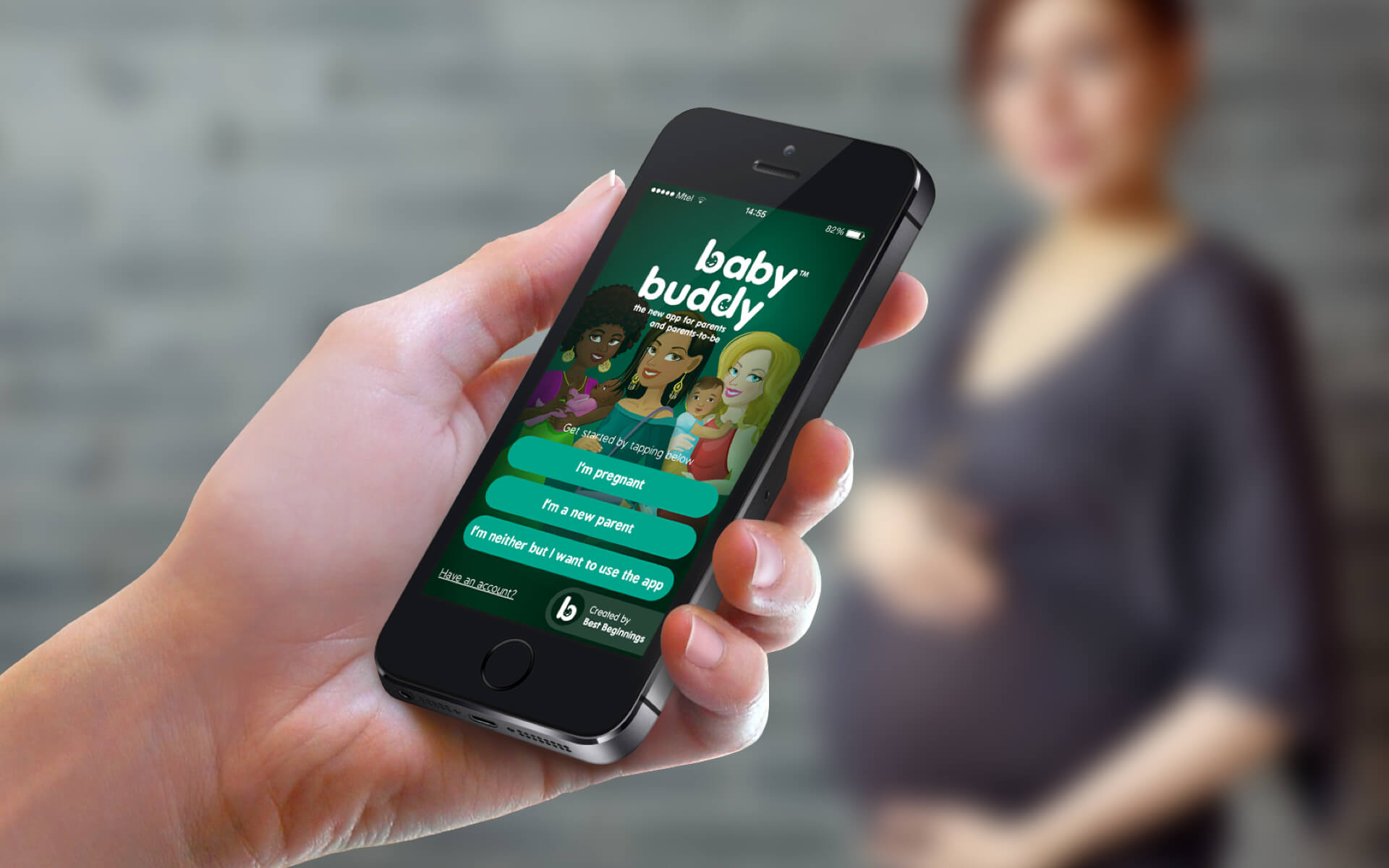 The Brief
We were briefed to create an app, that would appeal to Best Beginnings' target market. It had to be fun and personable to act as the users friend, but also stay true to the NGO's mission and cause, whilst adhering to the language and imagery as a government funded project.
The app, based on extensive qualitative research and co-production with healthcare professionals and parents to help those affected by health inequalities in the UK. For example based on research, a baby born in Wolverhampton is six times more likely to die before the age of one than a baby born in Bath.
Essential information needed to be shared with the user in a digestible and friendly way and regular testing would be needed to ensure optimal user experience, appealing to a large and diverse audience.
The nature of the app meant there would be sensitive, personal information. This meant data needed to be secure and anonymised for analysis, and personalisation.
Inform and empower mothers-to-be and new mothers with a helpful, intuitive mobile app that they can trust, like a friend.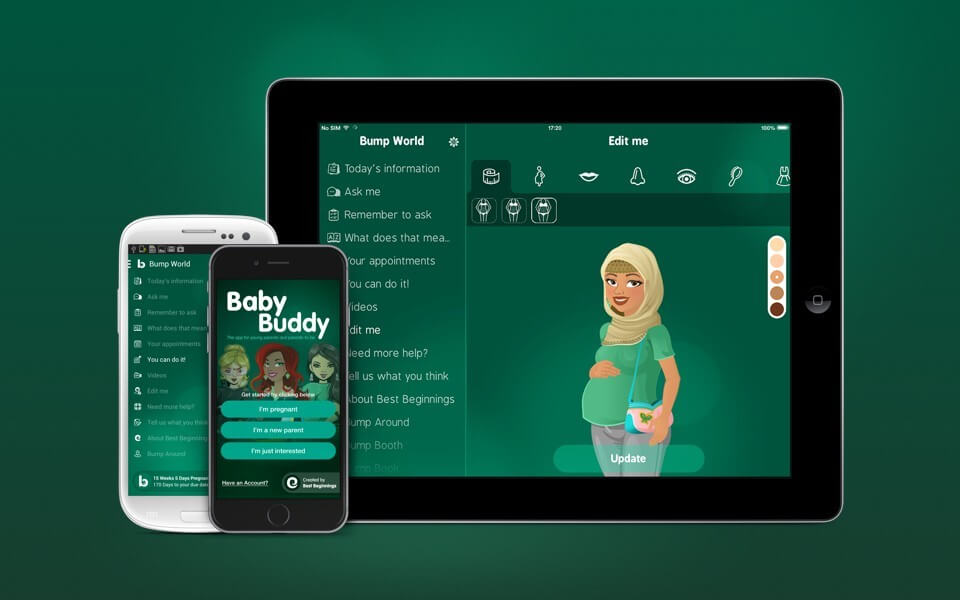 The Approach
The app needed to become a trustworthy virtual 'friend', so to make the experience personable, a considerable amount of experimenting, behavioural testing and fine-tuning of the UX was required.
This ranged from: features, the step-by step journey, tone of voice and the overall style applied.
By giving the user the fun of customising their own baby expert avatar, from eye colour to fashion sense, Baby Buddy overcame the challenges of presenting important health information to the user.
Some of the additional app features include:
A tracker for personal goals and achievements
A chat feature for users to type in questions for Baby Buddy to answer with expert information
Handy appointment reminder of the dates and times for upcoming check-ups
A reminder list for questions to ask at upcoming midwife appointment
A growing library of video clips to help get your head around different pregnancy and baby topics
A feature to research the meaning of different pregnancy buzz words
An avatar editor so can change how your Buddy looks and give her new outfits and accessories
A user feedback capture area to continuously help to improve the apps' experience and features
The app itself is built for iOS and Android, with additional design versions for tablets to respond to unique forms, which aren't just scaled up versions of the phone interface.
A big challenge with the project was to make sure that all the user's data is backed up correctly, whilst being careful about where the information is stored. For this reason no third party solutions were used.
A key area of the project was analytics. In order to improve the health of young mothers and inform them about key information, Best Beginnings needed a powerful system to analyse usage of the app and the data users have provided.
This had to happen with the highest security and privacy in mind. Questions being asked within the app could not be linked with an actual person - name or email and would remain anonymous. Data is stored on a UK-based secure server and sent over an encrypted connection. Google Analytics was chosen over other systems like Mixpanel to create a custom, future-proofed solution that suited all initial requirements, and planned for future extensions of the platform.
To support the cause Best Beginnings set out to help, Baby Buddy is now being used to promote the Mental Health Campaign with The Royal Foundation. You can find more on this here.
Whilst still in development, Best Beginnings is being commissioned by the Department of Health to deliver a reduction of stillbirth campaign using Baby Buddy as the central platform to disseminate and convey the campaign messages.
To ensure the app continues to improve based on user and health officials feedback, Best Beginnings continues to research and capture feedback from users. Many guides for using the app and user testimonials are shared via social media channels and made accessible on the app and website.
The Result
The app, based on extensive qualitative research and co-production with healthcare professionals and parents is already significantly improving outcomes for those affected by health inequalities in the UK. Here are the most notable results from the app:
More than 95,000 unique users have downloaded Baby Buddy for iOS & Android already.
Several of the UK's Royal Colleges have endorsed Baby Buddy including the Royal College of Paediatrics and Child Health, the Royal College of Obstetricians and Gynaecologists, the Royal College of Midwives, the Community Practitioners and Health Visitors Association, the Institute of Health Visitors, and the Royal College of Speech and Language Therapists.
Baby Buddy won the digital industry's prestigious BIMA award for the Well-Being & Health category and has also received health specific awards at the inaugural AXA PPP "Health Tech & You" and RCM "Best online resource for mums and mums to be" awards. Most recently they won the 'Digital & Technology' category at The Guardian's Public Awards.
Impact studies conducted between 2014 and 2016 show that 84% or people find it very easy to understand and 16% quite easy to understand. 76% of uses found it way too easy to use and 23% quite easy to use.
Surveys conducted during this period found that Baby Buddy helped more than 80% of users learn more about pregnancy with a quarter of those reporting a significant impact on knowledge and understanding.
Almost 100% of parents felt it helped them to look after their own health with a quarter of them reporting a significant health impact.
Due to the sheer success and impact on the users' lives, Baby Buddy is being used to promote the Mental Health Campaign with The Royal Foundation, and on top of that is funded by the Big Lottery.