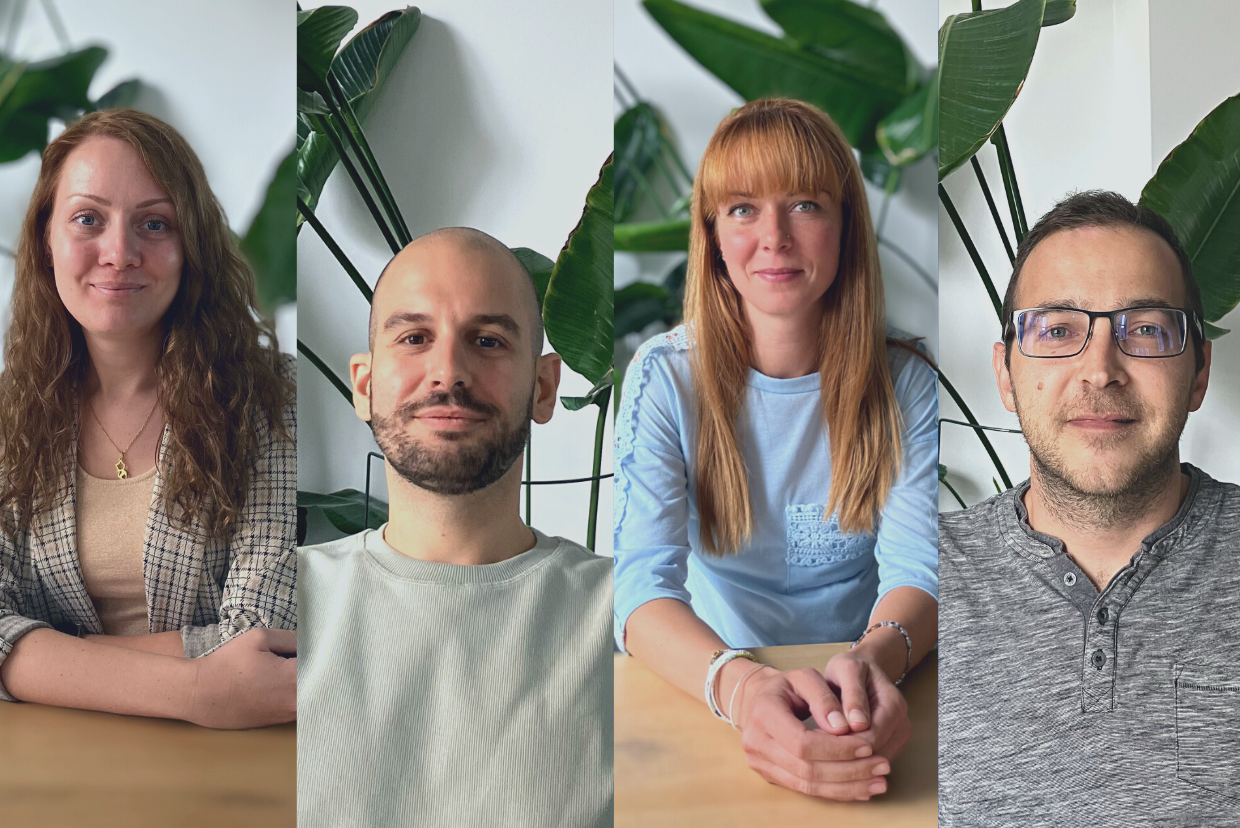 The backbone of our business is the unity within our team. The people at despark make our culture come alive and we're proud that we've created a stimulating and supportive environment where everyone feels safe to question decisions, challenge agendas and progress into varied and challenging roles.
In this blog, we'd like to introduce you to some new faces joining Despark in October - Veronika, Plamen, Hristo and Tsvetelina - each fitting into the despark clique quite perfectly 😉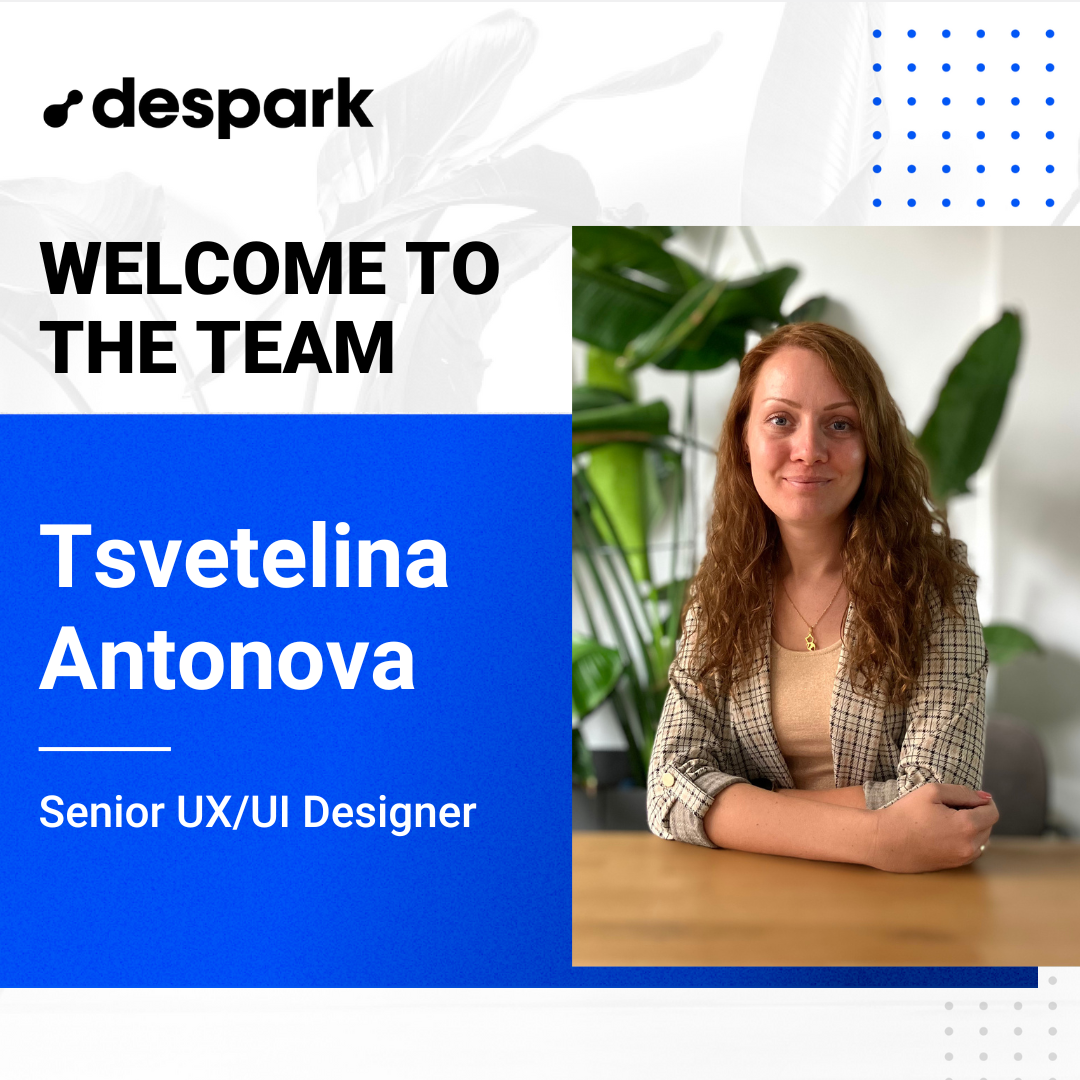 Tsvetelina is the fresh new edition to our up-until-now male only design team. She has more than 13 years of design experience creating web and mobile products, prototypes and all kinds of advertising creatives, be it social media banners, print materials, or vinyls. Going from Graphic Designer to Senior UX/UI designer, she knows how to build pixel-perfect designs, and has an array of tools up her sleeve, like the Adobe Creative Suite, Figma, CorelDRAW and more. Tsvety is a graduate from the New Bulgarian University.
In her free time, you can catch Tsvety writing a bike, or baking the best muffins in Varna.
Despark is the place where I found exactly what I was looking for - exciting projects that I will be eager to take part in and a team of professionals with whom I can exchange innovative ideas and knowledge.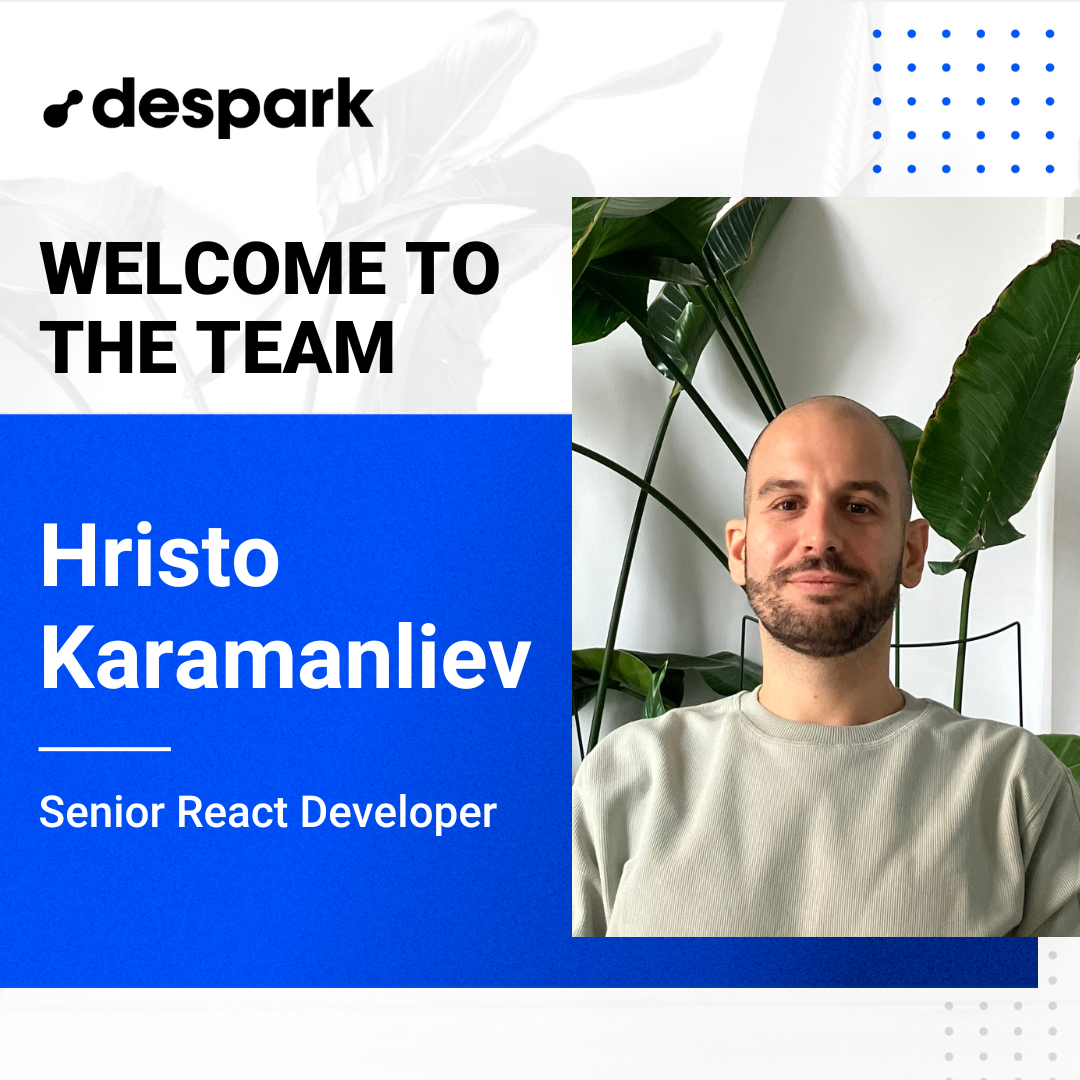 What Hristo and Tsvety have in common is their mutual passion for design - Hristo began his professional career as a Graphic Designer back in 2009, having worked in various companies, including the fashion store Fashion Days. Technology, however, seemed to have caught his attention more permanently, as for the last 6 years, he solved complex software challenges as a frontend developer. Similar to Tsvety, he also graduated from the New Bulgarian University with a degree in Computer Graphics.
For Hristo the secret to everything lies in balance - he's not afraid to switch snowboarding with cooking, or kickboxing with the cinema in an instant.
When I first arrived at the office, my welcome was very warm. What made an impression on me was that the atmosphere there was very casual, even though everyone is a professional in his domain. I like the fact that the projects which they pick are meaningful and they impact people's lives positively and the tooling and processes are modern and developer friendly.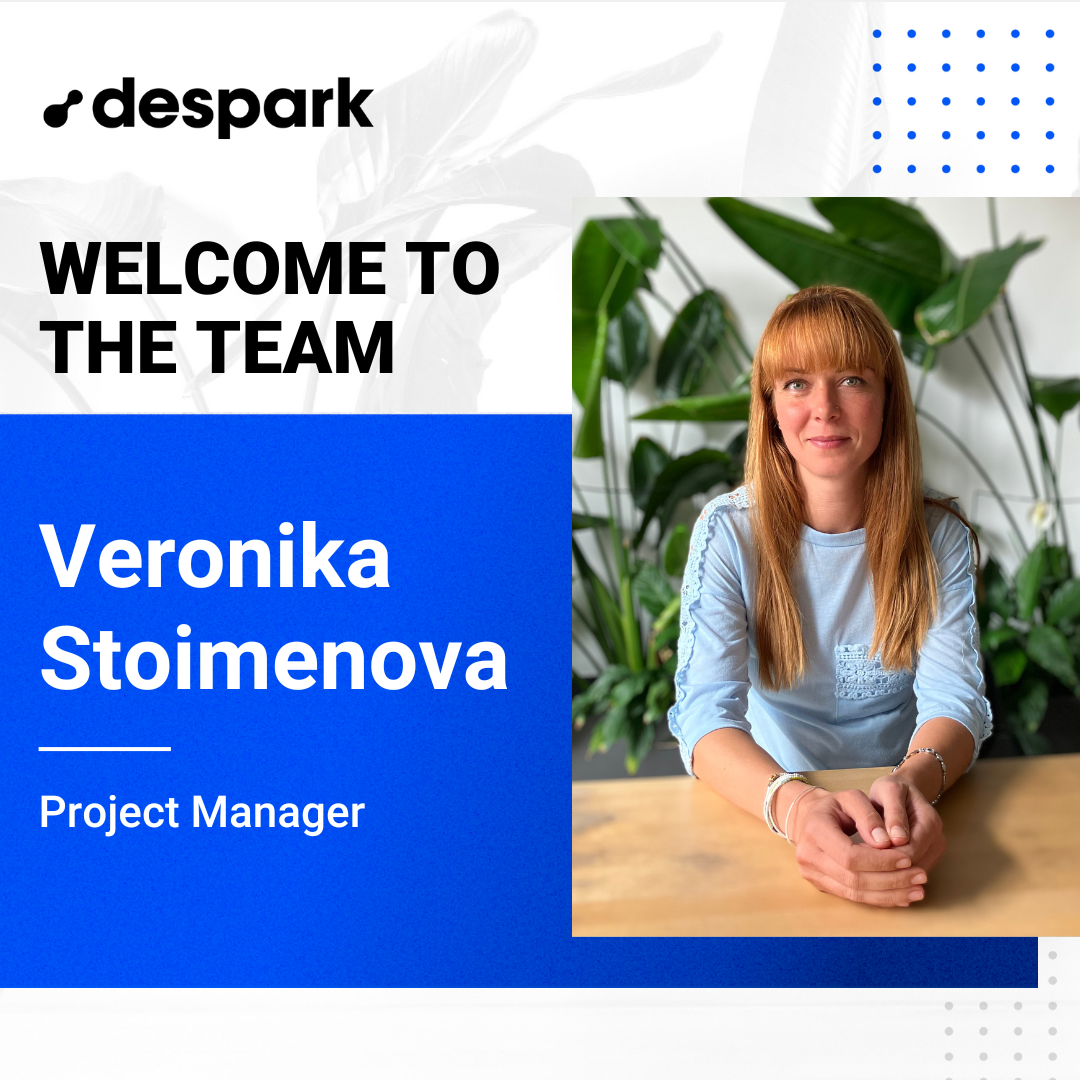 Veronika is a project manager with 10+ years of experience in international project management, IT and strategic consulting. Having worked as the Head of Project Management Office at Stanga1, she knows not only how to run successful digital projects, but also how to effectively communicate with various stakeholders to achieve the desired results. Veronika graduated the University of National and World Economy with a Masters' degree in International Project Management.
In her free time, she likes to get creative by writing poetry, traveling, and enjoying time with her daughter.
Despark seems like one big family. The people are warm and willing to help, and the atmosphere in the office is quite cozy and friendly.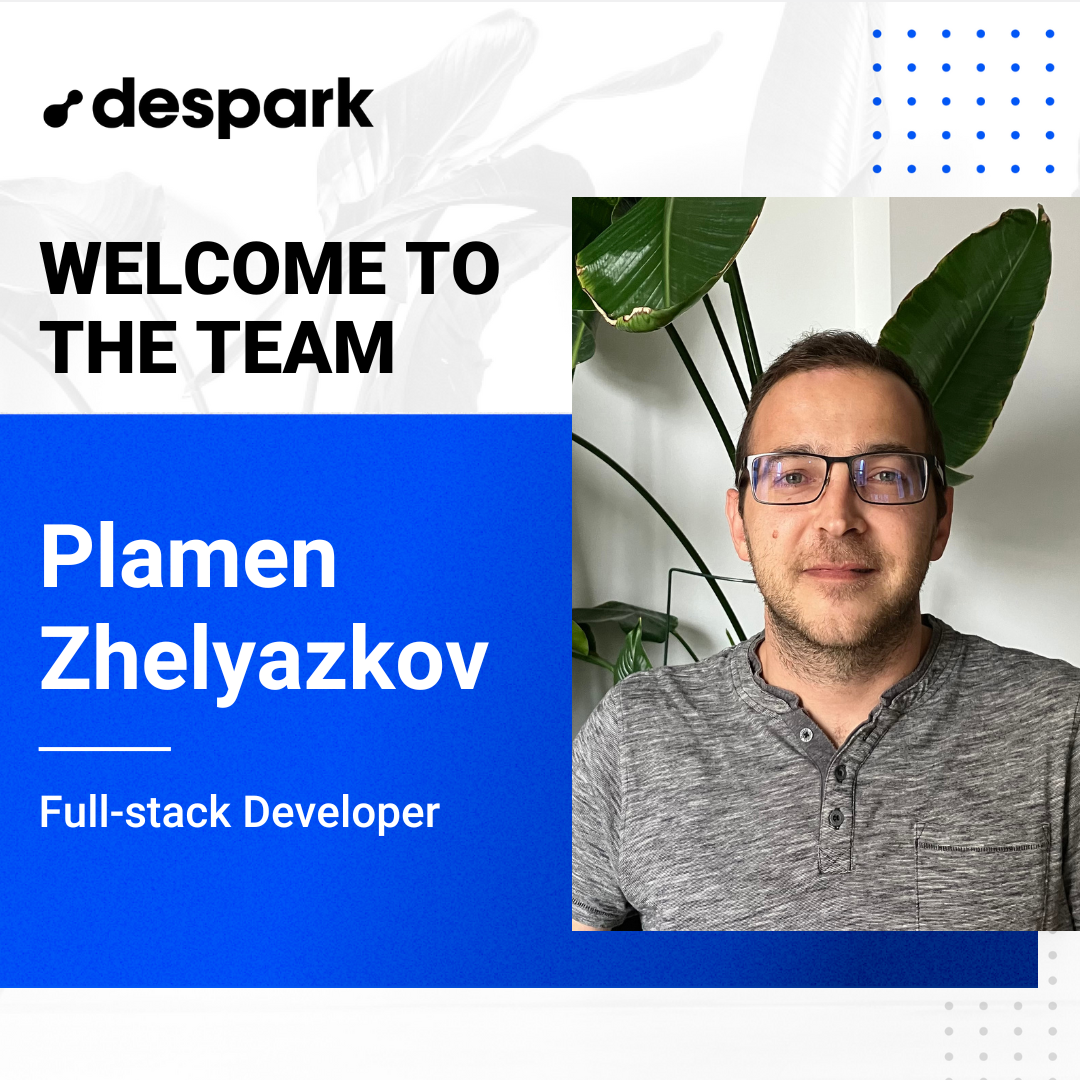 Plamen is our newest edition to the development team, who has experience in a broad range of IT disciplines and technologies, spanning from PHP, Java, to Wordpress and Laravel. He has spent most of his career life as a system/IT administrator and technical support lead in leading Bulgarian companies. As a software mastermind, he's still unsure if he's more backend or frontend but that's okay - the question will sort itself out naturally.
He is always eager to learn about all kinds of new technologies, but in his free time he also enjoys spending some time with his friends.
My first impressions from Despark can be summarised like this: Cool colleagues and professionals, who are up to date with the newest digital trends and technologies. Design and UX experts with a keen eye for detail. I also really enjoy the atmosphere in the office 🙂
Best of luck Veronika, Plamen, Tsvetelina and Hristo! You'll be hearing more about the people at Despark in the future, so stay tuned by following us on Linkedin & Instagram
And if you see yourself as part of the next newbies, go check our open positions.