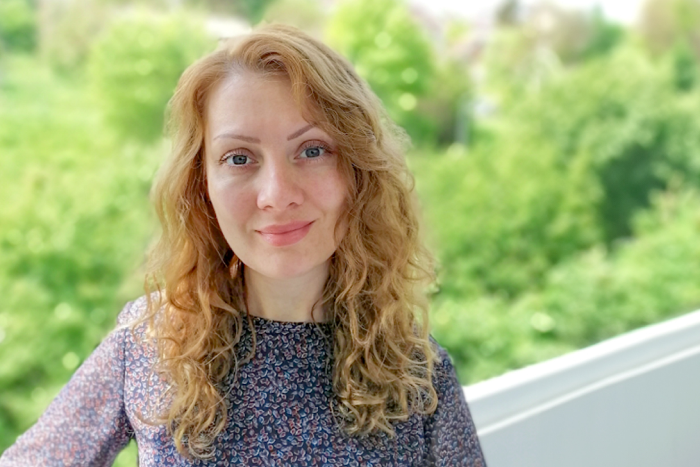 Come on a journey with us as we delve into the curious mind of our UX UI designer Tsvetelina Antonova. We will discover her personal sources of inspiration, professional achievements and the magic that goes into crafting user-centered experiences to life.
When did your love for design begin and how did it unfold over time?
Tsvety: It all started with my older sister who was studying graphic design at the time. She showed me how to use software like Photoshop and CorelDRAW, and I instantly fell in love with it. However, being the rebellious spirit that I am, I wanted to forge my own path and not be in her shadow, so I decided to pursue interior design instead. During my studies, I had the opportunity to explore various aspects of design, including graphic design and after finishing university, I started working as a graphic designer in an advertising company.
Then, one day, an opportunity presented itself. A software company was seeking a UX/ UI designer, and I didn't hesitate to seize the chance.
As I immersed myself in this world of UI/UX design, I discovered a whole new level of passion. The dynamic nature of the field, the constant learning and growth, and the ever-changing trends completely captivated me. And now, I find myself thriving in the realm of UI/UX, combining my love for graphic design with the exciting challenges of creating user-centered experiences.
What made you choose Despark for your place of work?
Tsvety: I came across Despark online during my research. I was immediately intrigued by the work and the mission of the company and I was happy to see that they were looking for designer to join the team. While I was gathering the confidence to apply, I received a message on LinkedIn from the Chief People & Culture Officer of the company. They were reaching out because they believed they had the perfect role for my experience and wanted to know if I was open to new opportunities. It was an exciting turning point that marked the beginning of my journey with Despark.
During the interview, I had the pleasure of speaking with the Head of Design and another designer from the team. What struck me the most was how comfortable and at ease I felt talking to them. It was like we had known each other for years. That connection and the enjoyable conversations we had made me believe that this was the right place for me. Trusting my intuition has always been important to me, and I'm grateful I followed it in this case too.
What's the biggest challenge you face in your job, and how do you overcome it?
Tsvety: Now that you've asked me this question, it reminds me of a case I had a few years ago. I was tasked with creating a mobile application and a web app for a brand. They provided me with a brand book, but it was quite outdated. I saw an opportunity to develop and modernize it, giving it a fresh and contemporary look. However, the client insisted on keeping their original vision. Despite the challenge of designing something that didn't align with my personal taste as a professional, I remained committed to meeting the client's needs. In the end, I successfully completed the project, and the client was extremely satisfied. It just goes to show that as a designer, you sometimes have to put aside your own preferences and focus on delivering the best outcome for the customer.
What is the key to your success, do you have any secret weapons?
Tsvety: For me, the key to success lies in one simple principle: honesty. I believe in being honest not only with my friends and family, but also with my colleagues and clients. Building trust and fostering a special bond is essential in every aspect of life, whether it's in our professional endeavors or personal relationships. By being genuine and transparent, I create an environment where open communication thrives and connections are strengthened. This foundation of honesty forms the basis for long-lasting partnerships and allows me to navigate both my professional and personal journey with integrity and authenticity.
What's your go-to design tool that you can't live without?
Tsvety: Figma
If you could only design using three colors for the rest of your life, what would they be?
Tsvety: Blue, white and nude.
If you could have a design superpower, what would it be?
Tsvety: One thing that truly inspires me is the art of drawing cartoon characters. It's something that comes from within, a natural gift that can't be fully taught. While you can learn the basic rules, it's the natural talent that truly stands out. If I could have a superpower, it would definitely be this skill.
Another aspect that I love is the psychology behind character design. You have the power to influence how people perceive a character by manipulating their features. For example, sharp features work best for showcasing a villain, while softer features convey positivity and kindness.
A very important part of my creative process is the need for logic. I can't simply place elements randomly without understanding their purpose. I strive for a logical connection in everything I create. It's not just about saying, "I'll put 20 pixels here," but rather understanding the reasoning behind those 20 pixels.
When you're not designing, what do you like to do for fun?
Tsvety: I love spending quality time with my family. After dinner, we enjoy playing board games- Monopoly, Chess, and Uno being our favorites. Sometimes on the weekends, we also have fun riding bikes to faraway destinations.
But I should also mention my newfound passion for gardening. The other day, I woke up at 6 o'clock in the morning on a special mission. I wanted to find a young lilac tree to add to my garden. I've read that planting it at this time of day yields the best results. So, I walked around the village, soaking in the peaceful morning atmosphere, in search of the perfect lilac tree piece to nurture in my own backyard. There's something incredibly calming and refreshing about being outdoors and connecting with nature. It's my ultimate stress-reliever!
Finally, if you could share one piece of advice with aspiring designers, what would it be?
Tsvety: One piece of advice I would give to aspiring designers is to be proactive and curious. Don't hesitate to ask questions and seek guidance whenever you need it. Remember, there are no silly questions! Also, don't be afraid to share your ideas and unique perspectives. Embrace your creativity and let your voice be heard. You never know what innovative solutions or exciting concepts may come from your contributions.
If you want to meet more of our talented and creative individuals, make sure you follow us on LinkedIn and Instagram.